検索
アパートの詳細& 料金の提案
予約する
ありがとうございます
VIOLET
Spacious 3 BR 4min walk from Charles Bridge and Old Town Square
3.5 ベッドルーム for 7 宿泊者 (最大 10)
Karoliny Svetle 12, Prague
説明
Violet is a spacious and luminous duplex (143m2) in a heart of Prague Old Town. It is situated in the calm street, under the roof of a historical building with wooden ceilings creating warm and welcoming atmosphere. Violet has a well-equipped kitchen where you can find everything necessary (microwave, toaster, to prepare your breakfast or simple meals. For those who want to work or keep in touch with family or friends, high-speed wireless internet connection is also provided. Violet is a non-smoking apartment. To have an idea about its disposition, we advise you to have a look at the floorplan of the apartment (according to our website, the floorplan is usually under the description or among the pictures). Violet is able to accommodate from 7 up to 10 people and thus represents a wise choice for group of friends or several families who want to visit Prague, considering its central location next to National Theatre and 10 minutes walk from Old Town Square. In few minutes, you can reach the best places for cultural enrichment or just spending a quality time out.

Few centuries ago, the house used to be an Inn. In the courtyard, you can even see the pillars with rings where horses used to be attached. These days, this courtyard has become a agreedable terrace where is a pleasure to have a drink or lunch between friends - the restaurant is great and it is worth mentionning you are staying with RENTeGO - you will have a discount.

Karolíny Svetlé street used to make part of a route connecting Vyšehrad with the ford of Prague. Originally, its name was Svatoštepánská - Saint Stephen street - named after the chuch of Saint Stephen which used to make part of walls of the castle constructed in XIII. century. The only parts of these walls remaining conserved can be found at the courtyard of the police office at Bartolomejská street. At the corner of Konviktská street, you can spot the oldest of three rotundas of the city - rotunda of Svatého Kríže Menšího dated in the end of XI. century. We say that its surroundings were haunted by a hairy monster with long hair chasing especially young girls of bad reputation, particulary those who were frequent visitos of the neighbor pub U Jezuru. The monster was waiting for these poor women in the dark nooks of the rotunda, then jumped on their back and choke monster surely wanted to punish them for their sins. Luckily, any of our clients haven't met him yet :)


Apartment use and noise: you commit to take care of the apartment and respect neighbours, particularly by respecting the interdiction of making noise between 22:00 (10 and 7 a.m. (which could result in 100 euros fine deducted from the damage deposit if neighbours complain about you and the police testify against you). Prague has many great places to party outside, and we wish you to enjoy it at best, the apartment is greatly located for that ;-)


PLUSES AND MINUSES:
+ Violet is located in the very center of Prague's Old Town, only 5 minutes of walk from the Old Town Square
+ Elevator in the building
+ Very large apartment (can accomodate up to 10 guests)
+ The apartment has a fully equipped kitchen
+ High-speed wifi provided
+ Many nice cafés and restaurants in the neighbourhood
+ Secured parking within 5 minutes' walk from the apartment (optional - not included in price)


CHECK-IN: from 4:30 p.m.
CHECK-OUT: until 11:00 a.m.
バスルーム

1

表面

143 m2

寝場所の手配

6 Twin, 1 Sleeper, 1 Double/Full Bed
レビュー
管理者は に推薦されて
ミシェラン・ツアーガイド2010
ミシェラン: すべてのアパートはプラハ1区にあり...ハイクオリティサービス...非常に魅力的な料金
プラハガイド
プラハガイドのテキスト
このアパートのレビュー者
A good time in Prag

Porto Alegre Brazil, 22. October 2016

October, 2016日後に3日間滞在

It was a good time in Violet aparment. Only the street is a little abscondit, so at the first day we lost our references at night. But at the second day this problem was resolved.

very good lokation

Tove H. から Frederiksberg Denmark, 02. October 2016

September, 2016日後に3日間滞在

very good lokation

wonderfull

cinzia SERAFIN b. から Asolo Italy, 06. September 2016

August, 2016日後に3日間滞在

very nice and very close to the center

Response from RENTeGO

14. 9月 2016

Thank you very much Cinzia!

Brilliant.

BIRMINGHAM United Kingdom, 31. August 2016

August, 2016日後に3日間滞在

Very good apartment, in a brilliant location.

Response from RENTeGO

14. 9月 2016

Thank you so much Andrei!

Could be better for the price paid

Alexander P. から Munchen Germany, 17. August 2016

August, 2016日後に3日間滞在

The location of the apartment is great. Special thanks for the portable Wi-Fi hotspot, it saved us a couple of times.
The property itself is spacious and good for a big company, but it requires some repairment. The wooden staircase is squeaky, with loose steps and balusters (which could be dangerous for the children). There are no bolts in the toilet and bathroom, neither we were given the keys to lock the toilet doors (the manager gave us only one key for two toilets on the second day of our stay).
Unfortunately we found pieces of broken glass on the floor. This, and the fact that the signs in the apartment were asking us to throw away the trash after our stay, made us question the work of the cleaning team.

Response from RENTeGO

24. 8月 2016

Thank you for your review, Alexander. We are happy you found the portable hotspot useful, it's a brand new service and we appreciate every feedback :) I have already informed our technician and cleaning team about your remarks and it's being worked on.

Great Journey

Vahlde Germany, 11. July 2016

July, 2016日後に3日間滞在

Everything was great, good service from Rentego Team, thanks!

Response from RENTeGO

27. 7月 2016

Thank you very much.

Prague rooftops

Milo A. から Fairbank United States, 08. June 2016

June, 2016日後に2日間滞在

Central location, beautiful interior, roomy with 8 comfy beds. Great views if you stand on beds to look out numerous skylight windows. Comfortably furnished with well equipped kitchen. Responsive rental company. Would definitely stay again.

Response from RENTeGO

06. 7月 2016

Thank you for the nice comment Milo. Very appreciated.

Perfect location for a group weekend in the center of Prague

Markkleeberg Germany, 27. April 2016

April, 2016日後に2日間滞在

The apartment is well located in the center of Prague. You can easily find lots of nice pubs and restaurants by going few steps into any direction. All known sightseeing spots are in a walking distance. The apartment does not offer a luxurios interior but it contains all things needed. It is spacious enough for a group of 8 adults.

Response from RENTeGO

18. 5月 2016

Thank you Matthias for the nice review :)

Appartement vaste et bien situé

Marc D. から United States, 10. March 2016

February, 2016日後に2日間滞在

Appartement de grande surface, propre, confortable, idéalement situé dans une cour, près du pont Charles. Ne manquait qu'une boite d'alumettes pour allumer le gaz…

Response from RENTeGO

08. 4月 2016

Merci beaucoup Marc. Nous serions heureux de vous accueillir la prochaine fois :)

retour de Prague

Catherine F. から France, 07. March 2016

February, 2016日後に7日間滞在

Very nice place
Near the old town
And services rentego perfect
We wait you in others countries !!!
We'll return !

Response from RENTeGO

08. 4月 2016

Merci beaucoup Catherine :) À la prochaine!

Very comfortable and so well located

ROSIERES AUX SALINES France, 23. February 2016

February, 2016日後に3日間滞在

My second experience with rentego... and second very good solution to discover Prague very comfortably.
Violet allows to host up to 8 persons in very good conditions. Less than 10 mn walk of all the main sites to visit.

Clean and affordable in really convenient location

Jordan A. から United States, 02. February 2016

January, 2016日後に3日間滞在

Apartment was really clean in a convenient location and was a really affordable price. Staff were helpful and responded to my emails promptly

Violet Prague

Sheffield United Kingdom, 31. January 2016

January, 2016日後に4日間滞在

Excellent. Location and apartment superb. The transfer arranged through rentego was wonderful and comes highly recommended! We have used rentego now a number of times and have always been delighted.

Prague vacation

Meudon France, 26. January 2016

January, 2016日後に5日間滞在

Amazing place for few days with friends !

eine große Ferienwohnung in prags Altstadt

Neudietendorf Germany, 04. January 2016

December, 2015日後に3日間滞在

Es ist eine geräumige wohnung.die Schlafzimmer sind sehr geräumig. . Die Wohnung ist zwar recht abgenutzt und vor allem den zimmertüren sieht man es an, aber darüber kann man getrost hinweg sehen. Küchenutensilien waren ausreichend vorhanden. Der backofen des gasherds war allerdings eine Herausforderung, wenn man die nutzung eines solchen nicht gewohnt ist. Die Kommunikation mit dem rentego Team war sehr gut und alles verlief reibungslos. Vielen Dank


Violet

Debra H. から Gilmer United States, 20. December 2015

November, 2015日後に4日間滞在

This apartment was wonderful. The only negative is that the bathtub is sloped on the bottom and is very slippery when showering. I would highly recommend a mat for the bottom of the tub to avoid injury.

Response from RENTeGO

08. 4月 2016

Thanks for the comment Debra, we will have a look at it!

Perfetto

Roma Italy, 26. November 2015

November, 2015日後に3日間滞在

L'appartamento è a due passi dalla piazza dell'orologio, sopra un pub/hamburgeria. È davvero grande e rifinito e per dirla tutta costa davvero poco. Perfetto??

Response from RENTeGO

27. 11月 2015

Grazie mile per il suo bello comento, Matteo!

Super apartment!

Martina E. から bologna Italy, 17. November 2015

October, 2015日後に4日間滞在

We had a wonderful stay in Prague, the apartment is huge, we were ten but the space was enough for all of us. The location is good, 10 mins walk to Charl's bridge!

Response from RENTeGO

20. 11月 2015

Thank you very much, Martina! We are looking forward to hosting you again in Prague :)

Good apt. Location

Edison United States, 18. October 2015

September, 2015日後に3日間滞在

The apt. Was in good location. It was very hot, when we entered the place.we tried to lower the adiusting the thermostats, but did not work, so we had to open the windows. The gas stove was not lighting and there was no matchbox or lighter to start the gas. We had to go out at 7 p.m.looking for matchbox in nearby stores. Finally after 20 minutes, we found one place which was selling the matchbox.
The management was not very helpful in resolving the heat and gas problem.
The management did not tell us about the shutters on the skylights in the bedrooms, finally we had to figure it out on our own.
The place was good. It had one toilet in very tiny part of one bedroom upstairs.
The other bedroom people had to climb down the stairs to use the had one bath on the main floor. It was very noisy by the other tenants on the same floor by the same agency. The young boys made lot of noise at night and kept ringing our door bell. We were scared.
The management arranged for our airport taxi for the cost. The taxi driver parked the taxi 4 buildings away and we had to drag the suitcases there. The building had a bar and restaurant whisch was noisy and had broken glasses in front of the entrance of the building, so we had to be extra careful in walking and dragging our luggage in and out of the building.

Birthday

Johnathan A. から Stratford upon Avon United Kingdom, 15. October 2015

September, 2015日後に3日間滞在

Amazing. Clean. Great location. Cheap

4 Days in Prague

Jon S. から Milwaukee United States, 08. October 2015

September, 2015日後に3日間滞在

Location was great, apt was basic but had all that was needed

very good

Germany, 16. September 2015

August, 2015日後に3日間滞在

Nice appartment with a good view above the rooves. There is enough space and good equipment.

Response from RENTeGO

26. 9月 2015

We are happy to hear that you were satisfied with our services, thank you Annegret!

Holiday in Prague

Davide C. から United States, 03. September 2015

July, 2015日後に4日間滞在

.

Response from RENTeGO

26. 9月 2015

Thank you for sharing your experience with RENTeGO, Davide!

Great place to stay

Phillippa C. から Yarm United Kingdom, 02. September 2015

August, 2015日後に3日間滞在

The flat is very easy to find. The key they send is just to the outer door, then you access the flat with a code making it very convenient to check-in at any time. The place is beautiful and was very clean. Great location. Only downside was that the Wi-Fi was a bit hit and miss.

Response from RENTeGO

02. 9月 2015

Thank you Phillippa! The problem with wifi can be solved by connecting your computer by LAN cable, sometimes there is too much wifi signal in the city center, that the routers are interfering each other. Otherwise we hope you had a pleasant stay and we would be happy to welcome you in Prague again! :)

Un superbe séjour

Agnes S. から Cours-la-Ville France, 23. August 2015

August, 2015日後に4日間滞在

La location était très pratique et très confortable, très bien située, à deux pas du centre historique. Un seul bémol : l'ascenseur souvent en panne, notamment les deux derniers jours, ce qui oblige à monter à chaque fois 120 marches. Pas évident quand on arrive fatigué de la journée de visite. Sinon, rien à redire, nous avons été très satisfaits de la location, nous l'avons déjà recommandée à des amis. Merci pour tout !

Response from RENTeGO

31. 8月 2015

Merci beaucoup, Agnes!

Ottima esperienza a Praga

United States, 27. July 2015

July, 2015日後に3日間滞在

cordialità, professionalità, efficienza. Ottima organizzazione. Grazie

Response from RENTeGO

26. 9月 2015

Grazie mille, Maria!

Fan-Tas-Tic weekend

emeline H. から chaville France, 21. July 2015

July, 2015日後に2日間滞在

Très bien situe - literie confortable - seul bemol peinture a rafraichir.

Wonderful stay

United States, 25. June 2015

June, 2015日後に6日間滞在

We were a group of nine people and the apartment was perfect for us. Thank you for the great stay.

atmospheric flat in good location

Santa Fe United States, 31. May 2015

May, 2015日後に3日間滞在

We were overall very pleased with the apartment. It was clean and well equipped and had plenty of space, and the renters responded promptly to our emails. And the location was convenient to access from the train station and for walks to downtown locations.

Family trip to Prague

Marienfeld Germany, 26. May 2015

May, 2015日後に3日間滞在

We stayed in this flat with 6 grown up and one Child, age 3.
This flat is of an enormous size; suitable for at least 9 people (plus X).
It is located in a quiet area of the old town but central enough to reach the old town square within 5 minutes- perfect.
In the same building there are flats of other rental companies, too. DUe to the fact, that the icehocky world championship was going on at that time it got a little louder during the night, but still exceptable.

prague and go

Claude A. から BAHO France, 19. April 2015

April, 2015日後に5日間滞在

good experience

perfect

Spain, 05. February 2015

January, 2015日後に7日間滞在

Perfect

Violet

Marie-Christine Goodworth a. から United States, 21. December 2014

December, 2014日後に3日間滞在

Wonderful except for maintenance needed on the property. When one only has a few days to visit such a beautiful city as Prague, one does not want to be worried about maintenance calls and not be able to have a hot shower at the end of a long day, even if it is a vacation day! Thanks for trying to resolve the shower hot water issue. There was mention of a refund of some sort for the trouble and I think this would be a nice gesture.

Super adresse

Brigitte P. から United States, 09. December 2014

December, 2014日後に3日間滞在

Excellent lieu de séjour à Prague, dans le centre historique, très calme, propre, spacieux (nous étions 7). Bref si on peut on y retournera.

Fantastic Stay

Bob M. から Fort Collins United States, 26. July 2014

June, 2014日後に3日間滞在

We had an extended family of 7, and this property was ideal for our needs. An easy walk to Old Town Square, St. Charles Bridge, and even the Castle. The temperatures were near 35 C, but with all the sky light that could be opened we remained very comfortable at night. Great little local pub across the street with super prices. This place is a steal, and the best bargain of our 6 VRBO rentals on our 3 week vacation. Prague is "The Place" to go.

Great stay

Elliot M. から Manchester United Kingdom, 15. July 2014

July, 2014日後に3日間滞在

An excellent apartment in a brilliant location. Would return!

Great place

Brooklyn United States, 05. July 2014

June, 2014日後に5日間滞在

Perfect location to view a range of Prague's sites. Also, near great restaurants.

Rentego Prague Review

United States, 26. June 2014

June, 2014日後に2日間滞在

The apartment was nice and clean and in a great location but the parking options were horrible. We were directed to park at a local lot but it was closed off for Prague's Museum Night. We drove around all over looking for safe parking and wern't sure if we made a good choice. It was frustrating.

Wunderschöner Pragurlaub

Ozer A. から Karlsdorf-Neuthart Germany, 25. June 2014

June, 2014日後に3日間滞在

Es war ein sehr angenehmer Aufenthalt in der Wohnung Violet.
Alles problemlos abgelaufen.
Sehr freundliche RENTeGO Mitarbeiter. Wir würden jederzeit wieder kommen.

Great family stay

Phil L. から Glen Forrest Australia, 31. May 2014

May, 2014日後に5日間滞在

We thoroughly enjoyed our stay at Violet. The location is excellent and for a large family (7) the apartment was ideal. There were a couple of hassles with the security code to access the apartment, but the staff were easily available on the phone and sorted the issues out very quickly.

Prague Violet

United States, 05. May 2014

April, 2014日後に7日間滞在

The apartment was lovely. Lots of space upstairs in the bedrooms, really a magnificent sleeping area. The living area was quite small by comparison and the furniture there could use an update. The shower didn't maintain a constant temperature, fluctuating from cold to very hot. Great location close to trams, subway, river, everything. Very prompt response to a problem with the toilet. Very accomodating for left luggage. Thank you!

Fabulous weeklong vacation in Prague!

Stacey H. から Mackenbach Germany, 13. April 2014

April, 2014日後に5日間滞在

What a great apartment and location! Fully stocked with everything you need and convenient to everything. So clean, even the teenagers commented on it and that's saying something! Vladka was super helpful with restaurant information and site seeing recommendations. I had some car trouble on the trip from Germany and Ivon spent one morning tracking down the right fluid. Certainly went out of his way to help! There were 8 in our group, adults, teens and kids. Would recommend the apartment to anyone needing the space.

Trip with friends in Praha

Fabio T. から Lausanne Switzerland, 17. February 2014

February, 2014日後に4日間滞在

The Violet flat is a really pleasant and cosy place. The location is great and the appartment was really roomy. I would recommend it to every group of more than 5 people who goes to praha

Very good friend's trip

Thibault MAZEAS b. から United States, 11. February 2014

January, 2014日後に7日間滞在

Nous sommes partis à 8 jeunes étudiants à la visite de Prague. Cet appartement est le meilleur rapport emplacement/prix/capacité pour un groupe d'amis. Cet appartement conviendrait aussi parfaitement à une famille nombreuse ou à deux familles. La propreté était vraiment au top et la disponibilité des personnes de RENTEGO vraiment à la hauteur.
Bref rien à dire et fortement recommandé.

Thank you very much

Eichstätt Germany, 20. January 2014

December, 2013日後に7日間滞在

"Violet" is a wounderful location, perfectly clean with everything you need at place: towels, beed sheets, coffee maker, hair-dryer etc. There is enough room for a group of 10. We all felt very welcome and comfortable. Thank you very much Vladka for the nice stay and the uncomplicated correspondence. I highly recommend this place!

Great rental!

Kutztown United States, 17. January 2014

December, 2013日後に4日間滞在

We really enjoyed our stay at Violet. There was more than enough room to sleep six of us. It was very clean and I loved the view from the upstairs windows. The staff at RENTeGO was very courteous and accommodating, and promptly answered any of our questions. Should we ever return to Prague, we will definitely stay there again.

Christmas In Prague

Jeffrey B. から Oatley Australia, 29. December 2013

December, 2013日後に6日間滞在

I can recommend Violet especially for a group. We had only 5 people but it would easily accommodate 8 comfortably and more if you used the sofa bed. The place is comfortable and best of all, in a fabulous location only a few minutes walk to Charles Bridge and then onto the Old Town Square. We would recommend

W

Anais L. から LISIEUX France, 20. November 2013

October, 2013日後に4日間滞在

WW

Good Apartment, Great Location, Good Space

Jonathan F. から Miami Beach United States, 12. October 2013

September, 2013日後に3日間滞在

We stayed at Violet for three nights. It was great location; close to about everything. The place had plenty of space. We had 5 of us and it worked just fine. They need better towels.

Great accommodation and handy location for Prague attractions!

Hamilton United Kingdom, 12. September 2013

September, 2013日後に3日間滞在

Great location and brilliant apartments.

séjour Praguois

bertrand h. から gennes sur seiche France, 09. August 2013

July, 2013日後に3日間滞在

très agréable séjour, avec une réservation d'appartement très professionnelle (par internet).
ce dernier était, spacieux, propre, très bien situé.
je le recommande sans souci.
Merci a rentengo, et bon séjour pour les futurs locataires

VIOLET APT KUROWSKI

Dan K. から Mt. Pleasant United States, 06. June 2013

May, 2013日後に4日間滞在

PROPERTY WAS CLEAN AND LOCATION WAS GOOD. KITCHEN SINK WAS GLOGGED FROM 1ST DAY. PLUMBER CALLED DAY 2 AND ARRIVED DAY 3 TO UNCLOG IT.

Great Appartment in the center of the old city.

Urshula Gockel b. から Rauenberg Germany, 07. May 2013

May, 2013日後に3日間滞在

We lived there with 12 people and it was very comfortable. Great appartment, very central.

Would return everytime.

Prague est une très belle ville, séjour agréable

BUHL France, 27. April 2013

April, 2013日後に3日間滞在

C'est un bel appartement spacieux, bien équipé, immeuble calme, très bien placé pour les visites de Prague. La moquette des chambres devrait être changée, elle est usée et sale ce qui est dommage car le reste de l'appartement était propre.

the best apartmemt in prague

Andrea C. から Campi Bisenzio United States, 02. April 2013

March, 2013日後に6日間滞在

Beatiful, clean, cheap and in a good position! It could not be better! Very reccomended

Very Central, good for Boys

Reich J. から Stein Germany, 26. March 2013

March, 2013日後に2日間滞在

All, good. We where 10 Boys. It was near to the City Center. You need no Car. You have W-Lan and much space.

Violet Prague great location etc but....

Killorglin Ireland, 06. March 2013

February, 2013日後に4日間滞在

We thought the apartment was great apart from 2 issues - one that would most likely put us off staying again the other not so serious but surprising.
Big issue only 1 shower in apartment for 10 people - this is a huge issue.
No TV - cannot believe apartment would not have X1 TV - need something to do whilst waiting for others to take shower due to fact only X1 shower!!


nice weekend in prague!

Erinc M. から Copenhagen Denmark, 31. October 2012

October, 2012日後に3日間滞在

Nice location, easy to find to the apartment. Lots of restaurants, bars, pubs, supermarket etc... The elevator makes the life easy! We received the keys and code in advance so we didn't need to do any check in & check out.. It was just like getting to your own apartment!..
There were several extra keys in the apartment so everyone had a key.
Returning the last key could be more efficient, like leaving also the last key in the apartment!. But instead we need to post back the key.

The apartment was clean, there were enough cups , plates etc in the kitchen..

My only complain was the shower towels were not smelling good! and if you are over 185cm, mind your head when you are going up&down to second floor!


c etait parfait ascenseur un peu rustique et petit

alfred g. から QUINT FONSEGRIVES France, 29. October 2012

October, 2012日後に4日間滞在

apartement proche des lieux de visite pas besoin d utiliser des transports

Excellent

Jessica L. から Sacramento United States, 20. October 2012

September, 2012日後に3日間滞在

Have a wonderful vacation in Prague. The house is very clean and organized with a good location. The only thing is kind of surprised, we did not have electricity for a short period during the first night in the vacation house. The manager was very helpful and gave us the tips over the phone to reset the circuit breaker.

Weekend group stay

Lisboa Portugal, 12. August 2012

July, 2012日後に3日間滞在

Very good value for money, very spacious, impecable location. The apartment could get some simple improvements (wall painting, floor).

nice holydays

Marie-Helene F. から ST VICTOR DE CESSIEU France, 27. May 2012

May, 2012日後に5日間滞在

nnnn

I don't speak english very well

Marie Claude B. から VIENNE France, 16. April 2012

April, 2012日後に4日間滞在

En français : il aurait été bien d'avoir une salle de bains supplémentaire

prague

Toan P. から Palaiseau France, 04. April 2012

March, 2012日後に3日間滞在

big appartment

Emplacement de rêve et très calme

Sylvie S. から BORDEAUX France, 28. March 2012

March, 2012日後に5日間滞在

Grâce à l'emplacement de Violet au coeur de la ville, nous avons pu faire tous nos déplacements à pied et profiter au maximum de la beauté de tout Prague. L'appartement est spacieux, clair, un bémol pour le ménage et l'équipement(ex:lave-vaisselle...) L'équipe de Rentego est très professionnelle.

wonderful place

marie jeanne I. から 69320 France, 19. March 2012

March, 2012日後に4日間滞在

It was a real pleasure to stay in this appartment
in a pleasant place, my friends were really satisfed of this choice

Appartement remarquablement situé pour visiter Prague

Isabelle D. から Aix-en-Provence France, 05. March 2012

February, 2012日後に3日間滞在

Appartement calme et agréable. Moquette à changer dans le couloir et les chambres

A very nice rental

Paris France, 21. January 2012

January, 2012日後に4日間滞在

I had booked this apartment (Violet) for 4 days in Prague. It is very well located in the town center in a calm neighborhood (yet if you want to go out there's a five-floor nightclub 10 minutes away ;) ), and matches its description on the web site. Very convenient when you're a large group of people thanks to spacious rooms and the two floors. Only "negative point": only one bathroom so you've got to get organised :). Plus, the RENteGOteam is nice and very helpful.

un bon pla à pragues

United States, 08. January 2012

December, 2011日後に3日間滞在

L'ensemble était très convenable, 3 réserves : la moquette semblait usée, la baignoire était usée aussi donc pas très nette et la vaisselle parfois à refaire;mais les lits et la literie étaient très propres et confortables

Sans fausse note

Djivan D. から PARIS France, 02. January 2012

December, 2011日後に2日間滞在

Un appartement propre, grand, confortable, et bien situé. Une organisation parfaite (remise des clefs par la poste, document d'information en français clair et très complet). Dommage que la taille des fenêtres empêche de profiter mieux de la vue.

Always great

Guillaume L. から PARIS France, 13. December 2011

December, 2011日後に2日間滞在

This is the third time I use retengo facilities in Prague. Each time they are professional, effective, hospitable and provide good advices. I'll recomand it without any doubt !

Séjour de Skippy

Alexis B. から PARIS France, 22. November 2011

November, 2011日後に2日間滞在

Très sympa !

Awesome Prague!

Wien Austria, 28. October 2011

October, 2011日後に2日間滞在

Great place, perfect location, and an awesome city. Everything within walking distance and priced perfectly!

Late summer in Prague

Paul C. から Steinhausen Switzerland, 10. October 2011

September, 2011日後に4日間滞在

The apartment is rather strangely laid out which proved a major drawback. Its a nice enough place but the bathroom is disappointing.
Otherwise as always a great time.

Congrats RENTeGo !!

MAXIME L. から NEUILLY SUR SEINE France, 21. September 2011

September, 2011日後に3日間滞在

...

Tony L. から LEERS France, 24. August 2011

August, 2011日後に4日間滞在

no more furniture in the kitchen. hard to cook for 9 persons in the appart

Response from RENTeGO

14. 9月 2011

Dear Tony, thanks for getting back to us - I agree the kitchen is kind of tight for 9 persons - that´s also why the apartment is recommended for 7 persons :-). We hope you enjoyed your stay in all other aspects:-). Rentego team

Very good stay! Thank you!

Yuliya S. から Lytkarino Russia, 01. August 2011

July, 2011日後に4日間滞在

We had wedding in Prague. We and our guests have stayed in these apartment. We like it very much, because of location, good bathroom, spacious rooms and kitchen. Our manager Vladka was very kind and helpful! There is good comfy cafe near apartment)

Mathieu G. から Paris France, 08. July 2011

July, 2011日後に3日間滞在

Dmitriy P. から Moscow Russian Federation, 04. May 2011

April, 2011日後に4日間滞在

Séjour au coeur de Prague

Naisey les Granges France, 28. April 2011

April, 2011日後に6日間滞在

Duane H. から Fresnes France, 21. April 2011

April, 2011日後に3日間滞在

Paris France, 12. April 2011

April, 2011日後に2日間滞在

Apertament muy recomendable para grupos, con comodidad i espacio.

Marta G. から Barcelona Spain, 23. March 2011

March, 2011日後に3日間滞在

Henri S. から nantes France, 14. March 2011

March, 2011日後に3日間滞在

Another happy customer.

Jim E. から United States, 02. March 2011

February, 2011日後に4日間滞在

All was fine.

a charming place for week ends with friends

Neuilly sur Seine France, 06. January 2011

December, 2010日後に4日間滞在

the house has a good position (near the centre, and also near a Tesco) - with 3 seperate rooms
Prague is wonderful during winter
I really recommend this stay
チェックイン/アウト
チェックイン時刻
以降のチェックイン 4:30 PM (から荷物を置いておける可能性 1:00 PM)
チェックアウト時刻
までにチェックアウト 11:00 AM (まで荷物を置いておける可能性 11:00 AM)
簡単なチェックイン
コードロックまたは個人的なお迎えにより、お客様は直接 ...に行くことができます
チェックイン/アウトに関するさらなる情報
アメニティ
アメニティ
アメニティ
このアパートのアメニティのリスト
このアパートのアメニティのリスト
Attractions

restaurants, churches, cinemas, festivals, live theater, museums, synagogues, zoo

Location type

Downtown

Suitability

children welcome, non smoking only, pets considered, wheelchair inaccessible

アメニティ

toilet, tub

アメニティ

iron and ironing board, heating, non-smoking, baby cot and baby chair (option), linens and towels provided, hair dryer
エンターテイメント

television, radio and CD player

キッチン

Kitchen, coffee maker, microwave, oven, refrigerator, stove, toaster, dishes and utensils

ビジネス

ATM nearby, free Internet (WIFI)

利便性

medical services nearby, grocery nearby, shopping center nearby, parking nearby, restaurants and bars nearby
間取図
間取図 この物件の大まかな間取図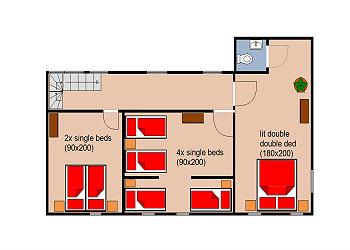 | | |
| --- | --- |
| Room | 部屋 |
| Hall | ホール |
| Kitchen | キッチン |
| Living-room | リビングルーム |
| Bathroom | バスルーム |
| Shower room | シャワールーム |
| Balcony | バルコニー |
| Terrace | テラス |
| Cloakroom | クロークルーム |
| Single Bed | シングルベッド |
| Double bed | ダブルベッド |
| Twin bed(s) | シングルベッド |
| Sleeper Sofa | スリーパーソファー |
| Mezzanine bed (usually a mattress on a wooden parquet) | 中二階のベッド(通常は木製の寄せ木細工上のマットレス) |
滞在期日に利用可能なアパートを見つける
-お客様が興味をお持ちかもしれない近くのアパート
ダウンロード
お客様が興味をお持ちかもしれない追加情報