検索
アパートの詳細& 料金の提案
予約する
ありがとうございます
RUDOLFINUM
Modern 1BR around the corner from Old Town Square
1.5 ベッドルーム for 3 宿泊者 (最大 4)
Kaprova 14, Prague
説明
Rudolfinum, is modern and sunny apartment with a unique location in the historical center of Prague. The apartment provides enough comfort for 2 to 3 people and is ideal for a family or a couple. There is a well-equipped kitchen, with everything needed for preparing simple meals (coffee maker, microwave, toaster ect.) For those who like to stay in touch with friends or need to work during their holiday, there is high-speed internet connection. Rudolfinum is non-smoking. To get a better idea of what the apartment looks like, scroll down to view the floor plan. Rudolfinum can be an interesting choice for bigger groups since it is located in the same building as the Kaprova apartment. Kaprova is big enough for up to 5 people. Among other things, this apartment is a great location. It is situated literally around the corner from The Old Town Square, The Charles University buildings and a few moments away from the concert hall Rudolfinum. You are simply going to be in the middle of everything! All the important places linked to culture and entertainment are easily accessible by foot. Thanks to its strategic location, Rudolfinum is a practical choice for a few stops during the day, so that you can relax and gather your strengths for shopping, sight-seeing or just exploring Prague. In the evening, you can dine in one of the many restaurants nearby and then continue to some of the numerous bars and clubs which are all walking distance away from the apartment.

Kaprova Street, originally named Svatovalentinská Street, is one of the oldest streets in Prague and used to be connected to the Old Town Square. The street acquired its present name from the mayor of the Old Town, Pavel Kapr from Kaprštejna, in the second half of the 16th century. The Kaprova apartment is only a few steps away from one of Prague's most famous attractions, The Astronomical Clock, located in the Old Town Square. This unique astronomical clock was built in 1410 by a watchmaker called Mikoláš of Kadan and an astronomer called Jan Ondreju. In the late 15th century the clock was perfected by Mistr Hanus z Ruze. At that time, the Prague councilors were very proud of their original landmark and feared that Mistr Hanus would build the same clock in a different city, therefore they ordered Hanus to be blinded. When Hanus learned who did this to him, he had his assistant bring him to the City Hall, where he, pulled the lever and damaged the machine forever. Allegedly it took ages before they found someone who could repair it. Meanwhile the silence of the clock reminded the councilors of their horrible deed. An interesting fact about the clock is that the only part which has nothing to do with time are the apostles, they are there for religious reasons.

Apartment use and noise: you commit to take care of the apartment and respect neighbours, particularly by respecting the interdiction of making noise between 22:00 (10 and 7 a.m. (which could result in 100 euros fine deducted from the damage deposit if neighbours complain about you and the police testify against you). Prague has many great places to party outside, and we wish you to enjoy it at best, the apartment is greatly located for that ;-)

CHECK-IN: from 4:30 p.m.
CHECK-OUT: until 11:00 a.m.
バスルーム

1

表面

50 m2

寝場所の手配

1 Sleeper, 1 Double/Full Bed
レビュー
管理者は に推薦されて
ミシェラン・ツアーガイド2010
ミシェラン: すべてのアパートはプラハ1区にあり...ハイクオリティサービス...非常に魅力的な料金
プラハガイド
プラハガイドのテキスト
このアパートのレビュー者
Excellente situation.

Daniel V. から Kortrijk Belgium, 16. October 2016

October, 2016日後に5日間滞在

Appartement très spacieux à deux pas de la place de la vieille ville. Literie moyenne, éclairage moyen, (éclairage défectueux dans la salle de bains), mais finalement agréable et bien équipé.

Une adresse à retenir

Beaufou United States, 18. September 2016

September, 2016日後に4日間滞在

Un appartement très central, agréable, propre et bien équipé.
Dommage qu'il y ait eu une erreur pour la réservation du transport vers l'aéroport le jour du départ.

Response from RENTeGO

27. 9月 2016

Merci beaucoup, nous sommes heureux que vous avez bien profité de votre séjour a Prague.

Location, location, location

Ken M. から Sacramento United States, 11. September 2016

September, 2016日後に3日間滞在

We received a package from the owner prior to travel with key, door code and excellent instructions. The apartment was well equipped but did not have air conditioning or a washer and dryer. The location was superb. It was our first visit to Prague and we loved it. Take your walking shoes, because you can't see the best sites from a bus.

Response from RENTeGO

14. 9月 2016

Great to hear that you enjoyed your stay in Prague so much, Ken! We are happy you had a good time, feel free to contact us anytime in the future.

perfect

Bernex Switzerland, 01. September 2016

July, 2016日後に3日間滞在

Perfect flat, very good location

Response from RENTeGO

14. 9月 2016

Thanks a lot Nicole!

Fantastic Praha

David S. から Firenze Italy, 24. July 2016

July, 2016日後に6日間滞在

Everything was perfect from the apartment to the people behind the rental.

Response from RENTeGO

03. 8月 2016

Thank you very much David, we were happy to host you. Feel free to contact us for your next visit :)

Perfect Location and Mobile Hotspot Provided!

Washington United States, 06. July 2016

June, 2016日後に3日間滞在

It was great! Literally around the corner from the main square in the Old Town. FYI, it is a 4th floor walk-up (there is an elevator but I couldn't get it to work), which for me was not a problem but might be useful for someone to know. Also, they provided a mobile hotspot that you could take with you around the city, which was SO useful. Would definitely recommend!

Response from RENTeGO

06. 7月 2016

Thank you very much Carlyn, we're happy you were satisfied with our services and we would gladly welcome you in any of our apartments next time you come to Prague!

Prag, Rudolfinum, Kaprova

Katrin K. から Celle Germany, 05. July 2016

June, 2016日後に4日間滞在

The whole preparation of our visit by RENTEGO was very professional and reliable. Any question prior to our departure was answered very promtly.

Response from RENTeGO

06. 7月 2016

Thank you very much Katrin! Hope to see you in Prague next time :)

Apartamento Rudolfinum

Maria Rosario R. から Valladolid United States, 18. June 2016

June, 2016日後に5日間滞在

Estuvimos cinco noches en este apartamento, el sitio en inmejorable , al lado de la plaza de la ciudad vieja y muy bien equipado aunque no nos hizo falta usar la cocina.Cojimos atolladero tranvía para ir al castillo y no tener que subir la cuesta, todo lo demás se recorre andando.El personal de la agencia muy amable y pendiente de que esté todo correcto , solamente una pega, la limpieza de la ropa de cama y los cojines aunque posiblemente sea culpa de quien hace la limpieza , el resto del apartamento estaba limpio .El servicio de taxi al aeropuerto están a la hora , tanto a la ida como a la vuelta . Volvería con esta agencia sin dudarlo. La pieza que sujeta la ducha estaba rota y se lo dijimos, al poco tiempo ya habían ido a cambiarla .

The place where to stay

JEAN PIERRE A. から st Marcel les sauzet France, 26. May 2016

May, 2016日後に4日間滞在

SOME TROUBLE WITH we solved the day after our arrival

Response from RENTeGO

29. 6月 2016

Thank you, we are glad everything went well. See you next time!

Excellent located apartment

Veaceslav B. から Bucharest Romania, 30. April 2016

April, 2016日後に3日間滞在

Good one room apartment but a bit small for a family of 4 persons. Absolutely nicely located in 2 min walk to Old town square and to all central tourist attractions of short walks - Charles bridge, Prague hrad (president castle). About apartment only complain: no shampoo at all, for 218 Eur we paid 3 nights they could put some cheap one for few Eur

Response from RENTeGO

18. 5月 2016

Thank you, Veaceslav! The location is the biggest perk of this apartment, we honestly think it's the best base for anyone who wants to be in the very center of Prague for a very good price. We also recommend our guests to check the services which are being provided in order to avoid any surprises such as no shampoo :)

Superbe séjour à Prague

denis V. から MARSEILLE France, 18. April 2016

April, 2016日後に4日間滞在

Appartement très propre, idéalement situé à 1 mn de la place de l'horloge astronomique.
Je conseille fortement pour petite famille.


Response from RENTeGO

18. 5月 2016

Merci beaucoup, Denis!

Absolument parfait !

FREDERIQUE B. から Le Havre France, 10. April 2016

April, 2016日後に3日間滞在

A louer sans aucune hésitation. L'appartement ne peut pas être mieux situé, à 1 mn de la place de la vielle Ville, tout en étant au calme. L'appartement est très agréable à vivre.
N'hésitez pas à prendre le service chauffeur aéroport/appartement via l'agence.
Les personnes de l'agence sont ultra disponibles et répondent très vite aux mails dans un français parfait.

Response from RENTeGO

10. 5月 2016

Merci beaucoup Frederique! Nous sommes heureux que vous avez bien profité de votre séjour a Prague.

March in Prague

Giuseppe E. から Marigliano Italy, 04. April 2016

March, 2016日後に4日間滞在

Very good staying in apartment, close to the centre, large and comfortable.

Response from RENTeGO

08. 4月 2016

Thank you Giuseppe!

Bon appartement !

Jerome P. から TOULOUSE France, 15. March 2016

March, 2016日後に8日間滞在

Appartement très bien situé
Idéal pour 2 personnes
Très bien équipé mais un lave linge serait un plus
Un peu bruyant à cause des voisins

Response from RENTeGO

08. 4月 2016

merci Jerome !

Better than described

Sindelfingen Germany, 16. February 2016

February, 2016日後に2日間滞在

With two small children, you could not have asked for a more centrally located apartment. We were thrilled that less than 200 yards away from "home", the Astronomical Clock stood. There was an ATM literally outside the apartment building, and the corner boasted a small food shop. The apartment was bigger than I expected, and just what we wanted- room for a pack and play, and the futon for my older child. It was clean, came with everything we needed, and we will definitely come back in the future.

Very happy with our choice!

The only negative I would say is that we weren't notified ahead of time that we would need to utilize a parking structure for our car- extra cost and time on our part, but peace of mind about the safety of our car.

Perfect

RAFAELALEXANDROS V. から ---- Cyprus, 09. February 2016

January, 2016日後に15日間滞在

!!!

Un bel appartement près de tout

Daniele L. から Mascouche Canada, 17. December 2015

December, 2015日後に5日間滞在

Nous avons été très satisfait de notre séjour dans cet appartement. Il est situé près de tout, il possède toutes les commodités, il est confortable. Nous recommandons cet appartement

Response from RENTeGO

02. 1月 2016

Merci beaucoup, Daniele! Nous serions heureux de vous accueillir à nouveau ici.

EXCELLENT

Paris France, 18. November 2015

November, 2015日後に5日間滞在

Tout correspond exactement à la description donnée. Appartement très agréable et confortable. Parfaitement bien situé, on peut à peu près tout faire à pied, sinon métro et tram juste à côté.

Response from RENTeGO

20. 11月 2015

Merci beaucoup, Jean-Jacques! Nous vous remercions d'avoir choisi Rentego lors de votre visite à Prague et nous nous réjouissons de votre prochaine visite.

Perfect in Prague

Mark M. から Eden prairie United States, 18. October 2015

October, 2015日後に6日間滞在

The apartment was in a perfect location. It is above a KFC but you never smelled it in the apartment. There is a small grocery on the corner across the street which was nice. Also, the best spot for exchanging money is on the other corner across the street. The apartment could use a couple more comfortable chairs other than the dining room chairs and the bed is more like a futon than a real mattress. Overall it was a very good place.

Safe and Secure!

GREEN VALLEY United States, 08. September 2015

August, 2015日後に5日間滞在

This apartment is wonderful! I traveled without my husband and felt very safe in the apartment and in the area. The window in the bedroom overlooks a busy street and I was able to sit there and watch the crowds and the horse and carriage go by. It was delightful! The kitchen was well-equipped. Hot water for showers was ample and there is a a huge bath tub. The driver, Jerry, was so welcoming. He speaks beautiful English and shared a lot about the country of my ancestors. The correspondence regarding this reservation were smooth. All of my questions were adequately answered. Should I ever make such a long trip again, I would definitely use this rental service again. I was nervous to be in a foreign country without my husband, but the many locks on the door really helped me feel safe. This apartment is a block or so from excellent transportation. I prayed about where to stay and God certainly provided a safe haven. God bless you, Rentego staff!

Response from RENTeGO

26. 9月 2015

Dear Sue, thanks so much for this nice comment. We were happy to help you to enjoy your stay in Prague, it's really nice to hear that you has a good time here. Do not hesitate to contact us for your next visit!

Good location in Praha

herve d. から Seoul Korea, Republic of, 15. August 2015

August, 2015日後に5日間滞在

Nice expérience except for the car parking issue. Your management should help more the guests regarding this problem.

Response from RENTeGO

18. 8月 2015

Thank you for staying with us, Hervé. The information about parking in Prague is now available on our website, however we will do our best and try to provide more detailed information.

Excellent location, good service

Jose s. から ---- Costa Rica, 08. July 2015

June, 2015日後に4日間滞在

I was in Prague end of June 2015, the apartment is just some steps from the central plaza, the apartment is in a 3er floor but is no problem, everything was clean and ready to use, in addition they have some important information that is useful, the transfer from and to the airport is good too.

perfect!

Zheleznodorozhnii,moskovskaya ob Russian Federation, 02. July 2015

June, 2015日後に5日間滞在

Great location,lovely building,cozy apartment!!! silent center,really one of the best places to stay!three picky young ladies were satisfied and pleased! dont hasitate to chose this apartment! High ceilings,minimalistic design,cleanliness and silence-is what we loved. Just we didnt find the washing machine on its place..maybe its on repair..? in all we thank you,team of Rentego,for our perfect stay at Rudolfinum apartment!Good luck!

Great location in Praga

Estela C. から United States, 07. June 2015

May, 2015日後に4日間滞在

we´re a couple from argentina travelling with a 2 years daughter... we loved Praga and the flat we´ve rented was in great location for going everywhere walking..

Nice and happy

Geneva Switzerland, 18. May 2015

May, 2015日後に3日間滞在

Beautiful weather. Outstanding location.

Old Town Square apartment Rudolfinum

Praha Czech Republic, 08. March 2015

February, 2015日後に7日間滞在

We absolutely loved the location. Even though it is placed in the very center, it was quiet during the night.
Service was great, we found all the necessary information in files provided in the apartment.
We will definitely consider renting an RENTEGO apartment again.

Rudolfinium Prague

Frederic M. から LILLE France, 31. January 2015

January, 2015日後に5日間滞在

Great apartment and the property management was very nice to help us. Do not hesitate to come here.

Great appartment, great situation

Paris France, 28. December 2014

December, 2014日後に3日間滞在

We are a french couple with a one year old baby, we had a very nice stay!
The appartment is perfectly furnished (even with baby's stuffs like bed... If you ask them before), has a perfect localisation to visit Prague.
Rentego's people are very nice, and answer very quickly to e-mails.
We used their driver from the airport, very nice too.
We recommend this appartment highly!
One little thing: the bed was too soft, and an unique blanket on it would be better...


excellent

sait tazhetdinov b. から Reunion, 07. December 2014

November, 2014日後に5日間滞在

it is good, excellent, nice.

rudolfinum

Anouk R. から SURESNES France, 24. November 2014

November, 2014日後に5日間滞在

super flat.
Only "to improves" are : 1 large bed vs 2 small beds and the right lamp/electricity not working. otherwise very happy, thanks !

Nice place to be

Paris France, 17. November 2014

November, 2014日後に4日間滞在

Our stay was great, very good place, well located in the great Prague center. I recommend this place for all people who look for a good place and not very expensive.

RENTeGo Review

Roman Tscherwew b. から United States, 08. August 2014

August, 2014日後に4日間滞在

Alles in allm sehr gut.
Hätte nur etwas sauberer sein können.


muy bien

Gregorio M. から United States, 23. June 2014

May, 2014日後に2日間滞在

ok

In the heart of Prague

Daniel G. から Montreal Canada, 27. April 2014

April, 2014日後に6日間滞在

excellent location and very nice appt

Perfect location

Inneke L. から Woodstock South Africa, 05. January 2014

December, 2013日後に5日間滞在

The Rudolfinum flat is right around the corner from Old Town Square, which was a perfect location. The flat itself was spotless and had all the amenities. Highly recommended.

excellent service pour un très agréable appartement

PARIS France, 21. December 2013

December, 2013日後に6日間滞在

excellent service pour un très agréable appartement en plein coeur de Prague.
Le seul problème (le code de la porte ne fonctionnant plus) a été immédiatement réglé (moins de deux minutes au téléphone avec une interlocutrice francophone) : donc pas de problème mais une solution :)
C'est la deuxième fois que je loue un appartement avec Rentego à Prague et je recommande sans réserve.

????? ??????!!!

Aleksey N. から United States, 14. December 2013

December, 2013日後に4日間滞在

???? ?????-??? ?v ?? ??????? ?????,? ???,??? ?????!!!!!!!!!

Très bonne expérience avec RENTEGO

Emilie H. から PARIS France, 26. November 2013

November, 2013日後に4日間滞在

Je recommande RENTEGO les yeux fermés.
Ils sont très disponibles et réactifs, leurs process sont simples et les consignes/conseils laissés dans l'appartement sont clairs et rédigés de façon sympathique.
J'espère avoir l'occasion de réserver à nouveau leurs services dans une autre ville lors d'un prochain voyage.

Prague aux vacances de la Toussaint

Geraldine M. から LADON France, 01. November 2013

October, 2013日後に4日間滞在

Nous rentrons de 4 jours à Prague où nous avons passé un très bon séjour (2adultes et 2enfants de 8 et 4 ans). L'appartement est extrêmement bien situé (commerce, visites, monuments, transports). Tout est à proximité. Nous n'avons pas eu besoin du tram ou du métro. Tout peut se faire à pied. Prendre une poussette pour les petits est recommandé tout de même.
L'option "transfert" était satisfaisante. Dommage que le chauffeur ne parlait ni français, ni anglais.
L'office du tourisme est juste sur la grande place à côté de l'appartement pour obtenir un plan de Prague. Sinon Rentego met quelques documents à disposition à l'appartement.

comfortable appartment

Zainab H. から United States, 15. October 2013

September, 2013日後に1日間滞在

In fact very helpful staff and well maneged establishment

Praha

Ronald C. から United States, 13. October 2013

September, 2013日後に7日間滞在

The hot water took forever to warm up and it would be better if there was a hook to hold the shower head above your head

Response from RENTeGO

01. 11月 2013

Dear Ronald, thank you for taking time reviewing our apartment and we would like to assure you there is a major bathroom refitting planned for the 2nd week of November (2013) - includes fixing the slow water warm up AND the shower hook:-). We recommend you come check both soon ! :-)

Nice stay

Riccardo D. から United States, 04. October 2013

September, 2013日後に3日間滞在

Everything nice, but there aren't washing machine and dish washing maching.

Response from RENTeGO

01. 11月 2013

Dear Riccardo, we are happy you enjoyed your stay in Prague. We are sorry you were missing some of the amenities, however we try to communicate those on our website, so that clients can verify and choose priorities for their stay. Next time let us guide you to an apartment that has it all ! :-)

Review Rudolphinum

Caroline J. から ---- Belgium, 11. September 2013

September, 2013日後に3日間滞在

Great

I'm very satisfied for quality of location

Mireille J. から MONTBAZIN France, 25. August 2013

August, 2013日後に6日間滞在

It's a very good experience and a beautiful trip !!!

Great experience

Nanterre France, 14. August 2013

August, 2013日後に3日間滞在

We loved it despite some problems with the bathroom. Everything was ok. The team was nice and helpful. Thanks.

bien

Patricia M. から AVIGNON France, 09. August 2013

July, 2013日後に8日間滞在

Aucun souci avec l'équipe de Rentego, efficace et professionnelle, très disponible pour répondre à toutes nos questions. L'appartement Rudolfinum est idéalement situé, en plein coeur de la vieille ville. Convient pour 3 personnes sans problème, bien équipé. Seul point à améliorer : la propreté que nous avons jugée moyenne.

Awesome Central Location

Andy H. から Köln Germany, 25. July 2013

July, 2013日後に4日間滞在

This is a great place for 3 people. The management company makes checking in and checking out very simple. I would highly recommend this place.

Great Prague Weekend

Julian L. から Belgium, 04. July 2013

June, 2013日後に3日間滞在

After requesting a downtown location accessible to all Prague's attraction we were offered a great appartment in the heart of town. Spotlessly clean and well-serviced a temporary home from home.

Rudolfinum stay

Gerd B. から England, 05. June 2013

May, 2013日後に4日間滞在

We had a wonderful time in Prague and loved being so extremely central. Everything was approachable on foot and we didn't need to use any public transport. Also loved being independent in a flat rather than sharing a room in an hotel. Everything was super.

Bon plan

TOULOUSE France, 02. May 2013

April, 2013日後に3日間滞在

Un appartement idéalement situé au coeur de la vieille ville. A part la cuisine, belle et très moderne, la déco est moyenne, mais pas désagréable du tout. C'est propre et clair.

nice stay

Remy S. から Le Mans France, 10. March 2013

February, 2013日後に3日間滞在

great
We spent 3 lovely days in PRAGUA
The flat was the same than in the description


Review

Michael F. から Sion Switzerland, 20. January 2013

January, 2013日後に1日間滞在

Great

prague

Patricia H. から Attadale Australia, 17. December 2012

December, 2012日後に4日間滞在

An excellent property to stay at. The location was close to everything and in general we walked to all the sights. The apartment was large enough to accommodate myself and daughter easily. The wifi connected easily. Would highly recommend it.

enjoyable experience

gerard t. から Saint\\x2DMaclou de Folleville France, 02. December 2012

November, 2012日後に7日間滞在

so comfortable and quiet,right in the historical and artistic center of that great city.

Magnifique sejour

LYON France, 27. November 2012

November, 2012日後に5日間滞在

ville splendide, appartement idealement situé a 150 m du quartier juif et a peine vingt minutes a pieds du chateau. au centre du quartier de la vieille ville et de tous ces bars et restaurants. appartement tres calme malgré tout grasse matinée assurées

almost perfect

LIONEL C. から COLMAR France, 12. November 2012

October, 2012日後に4日間滞在

Just one problem : not a lot of hot water!!!
the rest was perfect
Location ideal for a journey by walk

Une ville de rêve

Dominique L. から Le Perreux France, 23. September 2012

September, 2012日後に4日間滞在

Nous avons été enchantés de notre séjour et notre location était merveilleusement bien située pour découvrir la ville à pied, en bus ou en tramway.

Great place to stay in Prague

United States, 17. September 2012

September, 2012日後に2日間滞在

The team were very professional, and had all the practical information on Prague. Special mention to our driver to the airport sorry, i forgot his name - Ivan's brother - who helped keep our bags in his car as we were leaving for the airport later and there was another guest checking in.

Great location!

United States, 15. August 2012

June, 2012日後に6日間滞在

We very much enjoyed the location and the size of the apt...we could walk everywere! The rental agency was very nice and helpful.

Great place at only two minutes walking to Staromestské námestí

Alberto Jesus L. から United States, 15. August 2012

August, 2012日後に4日間滞在

.

Parfait

JEREMIE D. から ASNIERES SUR SEINE France, 28. May 2012

May, 2012日後に9日間滞在

Cette appartement est idéal pour visiter Prague. Il est très confortable et fonctionnel.

Great location, so close to everything but quiet and peaceful

Kate C. から United States, 13. May 2012

May, 2012日後に4日間滞在

A great spot to explore from, so close to the Old Town Square and Jewish Quarter, you can pop 'home' to drop off shopping or go to the loo!

perfect !

luc d. から Gouvieux France, 30. April 2012

April, 2012日後に4日間滞在

This appartment is VERY well located. it is clean and clear. perfect !

Praha for ever

Alexandr K. から ---- Russian Federation, 06. April 2012

March, 2012日後に9日間滞在

?? ???????? --- ?????-????? ????????? ????????

magnifique expérience

louise d. から St\\x2DConstant Canada, 28. March 2012

March, 2012日後に11日間滞在

Magnifique expérience. Un appartement très bien situé , à 2 minutes de la vieille ville.

Séjour en couple - fév. 2012

David L. から SAINT\\x2DBRICE France, 04. March 2012

February, 2012日後に4日間滞在

Appartement idéalement situé en plein coeur du quartier historique.
Très bien aménagé, très bien équipé et très spacieux pour 2 personnes.
Plutôt facile d'accès depuis l'aéroport (45 mn de trajet).
Les conseils de l'agence sont très pratiques au niveau de la vie courante (commerces, etc...).
Il y a un mini guide pour chaque situation ;) !

Meilleur rapport qualité/prix sur Prague ! Je recommande vivement Rentego !!

Excellent stay

---- Russian Federation, 13. February 2012

December, 2011日後に7日間滞在

Hello, as a whole the apartment was pleasant to us. Thanks for fast reaction concerning the idle iron. There is a small wish. For a family with children the washing machine is very important.
And in the rest all was excellent. An arrangement of apartment the excellent.


prague kaprova14

jean\\x2Dpierre B. から SAVONNIERES France, 20. November 2011

October, 2011日後に5日間滞在

EXCELLENT SEJOUR

very good stay

jean\\x2Dmarie s. から bordeaux France, 08. November 2011

October, 2011日後に3日間滞在

nous avons particulièrement apprécié l'accueil à la fois professionel et sympathique de l'équipe Rentego et l'emplacement central de l'appartement ancien mais bien et spacieux

a piece of quiet in the heart of Prague

Alim B. から Paris France, 25. October 2011

October, 2011日後に2日間滞在

very quiet and large appartment right in the main square of prague... don't miss it !

Just perfect!

Barcelona United States, 18. October 2011

October, 2011日後に4日間滞在

The location is just perfect. The apartment is big and very clean . We could npt have been in a better place

Wonderful stay

antibes France, 12. October 2011

October, 2011日後に3日間滞在

Agence au top, appartement très mignon et idéalement placé... à recommander sans hésitation

satisfaction générale

TOULOUSE France, 11. October 2011

October, 2011日後に4日間滞在

Appartement très central et très commode.Rentego facilite le séjour en envoyant les clés et nous a permis de changer la date sans recommande vivement cet appartement et Rentego

Localisation Idéale

Nathalie V. から Saint Germain sur Ille France, 12. August 2011

August, 2011日後に7日間滞在

Appartement idéalement situé, exactement conforme à la description de la vidéo. Un service d'une efficacité remarquable (bravo encore pour le dépannage de la wifi un dimanche...). Rien à redire si ce n'est que la troisième personne ne bénéficie pas d'une
vraie chambre mais ce n'est pas une surprise.

United States, 04. August 2011

July, 2011日後に7日間滞在

MATHILDE G. から ---- France, 12. July 2011

June, 2011日後に4日間滞在

Helene V. から Quebec Canada, 20. June 2011

June, 2011日後に3日間滞在

Le seul problème que nous pouvons soulever a été le bruit très tôt le matin, et durant la dernière nuit. Des travaux majeurs voisins de notre appartement très tôt le matin qui nous empêchait de dormir et les travaux en pleine nuit dans un appartement de l'édifice.

Response from RENTeGO

19. 8月 2011

Bonjour, et desole pour ce contraint. Nous n´etions pas au courant de travaux dans/autour le/de batiment. Nous esseyrons mieux nous informer a ce sujet et prevenir nos clients. Par ailleurs - pour une prochaine fois :-) - il faut nous appeller, nous aurons surement pu vous proposer un demenagement/surclassemnt dans un autre appartement. Cordialement

Perfect !

Regis T. から MIREPEIX France, 07. June 2011

June, 2011日後に4日間滞在

Very good location for the appartment.
And Rentego a very good partnership.

Florence S. から saint sebastien de morsent France, 09. May 2011

May, 2011日後に5日間滞在

Situation idéale pour découvrir Prague !

Alain G. から RAFFETOT France, 25. April 2011

April, 2011日後に6日間滞在

Les clés envoyées en avance, les astuces et les conseils permettent une arrivée et un séjour sans stress.

it was nice to be so close in the old town in an appartment nice too

monique m. から paris France, 23. March 2011

March, 2011日後に3日間滞在

L'appartement est très bien situé, très proche de la place de vieille ville, de tous les lieux importants à visiter, à pieds, spacieux pour 2 personnes, très confortable, bien chauffé en hiver; il nous a permis de passer un agréable séjour à Prague.

Georges B. から Villeurbanne France, 17. March 2011

March, 2011日後に5日間滞在

I Recommend Rentego apartments

Ian P. から Rugeley United Kingdom, 19. December 2010

December, 2010日後に5日間滞在

I have been booking with Rentego for several years now, as I find their apartments cheaper and more convenient than hotels.
They are always very efficient, and helpful. The apartments I have used have always been well situated for everything I need. I would recommend them to anyone, and intend to continue using their services in the future.
チェックイン/アウト
チェックイン時刻
以降のチェックイン 4:30 PM (から荷物を置いておける可能性 1:00 PM)
チェックアウト時刻
までにチェックアウト 11:00 AM (まで荷物を置いておける可能性 11:00 AM)
簡単なチェックイン
コードロックまたは個人的なお迎えにより、お客様は直接 ...に行くことができます
チェックイン/アウトに関するさらなる情報
アメニティ
アメニティ
アメニティ
このアパートのアメニティのリスト
このアパートのアメニティのリスト
Attractions

churches, cinemas, festivals, live theater, museums, restaurants, synagogues, zoo

Location type

Downtown

Suitability

children welcome, non smoking only, pets considered, wheelchair inaccessible

アメニティ

toilet, tub

アメニティ

iron and ironing board, heating, non-smoking, baby cot and baby chair (option), linens and towels provided, elevator in the building, hair dryer
エンターテイメント

television, radio and CD player, satellite

キッチン

Kitchen, coffee maker, microwave, refrigerator, stove, toaster, dishes and utensils

ビジネス

Free Mobile Hotspot, ATM nearby, free Internet (WIFI)

利便性

medical services nearby, grocery nearby, shopping center nearby, parking nearby, restaurants and bars nearby
間取図
間取図 この物件の大まかな間取図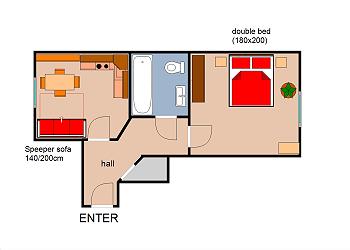 | | |
| --- | --- |
| Room | 部屋 |
| Hall | ホール |
| Kitchen | キッチン |
| Living-room | リビングルーム |
| Bathroom | バスルーム |
| Shower room | シャワールーム |
| Balcony | バルコニー |
| Terrace | テラス |
| Cloakroom | クロークルーム |
| Single Bed | シングルベッド |
| Double bed | ダブルベッド |
| Twin bed(s) | シングルベッド |
| Sleeper Sofa | スリーパーソファー |
| Mezzanine bed (usually a mattress on a wooden parquet) | 中二階のベッド(通常は木製の寄せ木細工上のマットレス) |
滞在期日に利用可能なアパートを見つける
-お客様が興味をお持ちかもしれない近くのアパート
ダウンロード
お客様が興味をお持ちかもしれない追加情報