検索
アパートの詳細& 料金の提案
予約する
ありがとうございます
KLIMT
2 BR 10 min walk from Old Town Square and Charles Bridge
2 ベッドルーム for 4 宿泊者 (最大 7)
Klimentska 40, Prague
説明
Klimt is a very calm and sunny apartment located in the heart of Prague. It is comfortable and big enough for 4 to 7 people. If you are travelling in bigger groups Klimt would be a practical option since it is located in the same building as Smetana. Smetana is an apartment big enough for up to 7 people. This way you will avoid arranging meeting times and looking for friends and family in a crowd of tourists.


Klimt has a well equipped kitchen with everything needed (coffee maker, microwave, toaster etc.) to prepare breakfast or dinner after a tiring day of discovering the city. As all our other apartments, Klimt has high-speed internet connection and is non-smoking apartment. If you want to get a better idea of the apartment scroll down to view the floor plan.


The apartment is strategically placed within 40 minutes of any historical sight, ensuring that you can get anywhere by foot, for example it is only 20 minutes away from Charles Bridge and the Old Town Square .


On top of that, the apartment has a beautiful view of the banks of Vltava River and Prague's first hydroelectric power station. Klimt is located in Klimentska Street. This street is named after Saint Kliment's Church which used to be a parish church in the settlement of Porici. In the 13th order. Then in the 14th Czechoslovakian Evangelical church. There used to be a road which lead from the ford of the Stvanice island to what we know as Dlouha Trida. Even though the houses along the road do not exist anymore, their former names are linked to the Vltava River, for example " Rybarsky dum" "The Fisherman's House". The island Stvanice used to be and still is an important part of Prague. Nowadays the island is used mostly for recreation and sport activities, but in the past it was where all the Prague's executioners lived. Since their craft was thought of as unclean and sometimes unjust, they were forced to live outside of the city. Thanks to their profession, the executioners understood the human body very well and many century the church started looking more gothic and became a part of the Prague's residents came for their advice. One time, an executioner saved a dying boy's life. He stopped the evil prophecy and cured him.


Apartment use and noise: you commit to take care of the apartment and respect neighbours, particularly by respecting the interdiction of making noise between 22:00 (10 and 7 a.m. (which could result in 100 euros fine deducted from the damage deposit if neighbours complain about you and the police testify against you). Prague has many great places to party outside, and we wish you to enjoy it at best, the apartment is greatly located for that ;-)


PLUSES AND MINUSES:
+ Klimt is located in the very center of Prague, only 10 minutes of walk from the Old Town Square
+ Elevator in the building
+ There is a washing machine which can be really convenient for longer stays
+ The apartment has a fully equipped kitchen
+ High-speed wifi provided
+ Many nice cafés and restaurants in the neighbourhood
+ Secured parking within 5 minutes' walk from the apartment (optional - not included in price)


CHECK-IN: from 4:30 p.m.
CHECK-OUT: until 11:00 a.m.
バスルーム

1

表面

74 m2

寝場所の手配

3 Twin, 1 Sleeper, 1 Double/Full Bed
レビュー
管理者は に推薦されて
ミシェラン・ツアーガイド2010
ミシェラン: すべてのアパートはプラハ1区にあり...ハイクオリティサービス...非常に魅力的な料金
プラハガイド
プラハガイドのテキスト
このアパートのレビュー者
Sérieux

France, 19. September 2016

September, 2016日後に4日間滞在

Ravis,

Response from RENTeGO

27. 9月 2016

Merci!

Comfortable, spacious, clean

Sacramento United States, 09. September 2016

September, 2016日後に4日間滞在

The staff at RenteGo was kind and helpful, both in e-mails prior to our arrival, and in person on the night of our arrival. The apartment itself was great, and had everything we needed.

Response from RENTeGO

14. 9月 2016

Thank you Tay, it was our pleasure to host you! Don't hesitate to contact us next time you plan your visit in Prague :)

Wonderful Stay in Prague

Avoca Ireland, 30. December 2015

December, 2015日後に7日間滞在

Very positive experience. This was our first time using accommodation other than a hotel to visit a new country. The accommodation was spacious, clean and exactly as advertised. Rentego were on hand by phone or email for all of our queries and everything was taken care of quickly and politely. Our party rented 3 apartments in the same complex and everyone had a very good experience. It was nice to be in buildings with other Czech people (though they were worried we would make noise after 10 pm - we did not!) and sharing the elevator with dogs and families was very fun! Prague is a beautiful city and we had a lovely vacation. We look forward to returning again soon and will recommend Rentego to others.

Response from RENTeGO

08. 4月 2016

We're glad to hear you had such a nice stay, thank you for sharing your experience Rebecca :) We look forward to hosting you next time!

A great experience in Prague

Michel et Laurence D. から ORSAY France, 30. October 2014

October, 2014日後に3日間滞在

Nice & large appartement, quiet, clear, well equiped excepted a TV set. Close to Prague center and the Vlava, we appreciated long walks in the city center, the river banks & a few museum, 3 days were a bit short to visit as much as we wanted. There is so many concerts & shows, it's hard to chose. RenteGo is a nice & helpfull team who make everything to ease up our stay. A good experience to recommand

super location

Marie-Jo T. から Besançon France, 03. July 2014

June, 2014日後に4日間滞在

L'appartement n'est pas trop loin du centre de Prague. Petits magasins pas très loin pour se restaurer, endroit calme surtout.

awwwesome

Marina-Jana-Michaela F. から Czech Republic, 23. April 2014

March, 2014日後に34日間滞在

if I could stay for good, I would

Très bon séjour!

Clement B. から Villeurbanne France, 28. September 2013

September, 2013日後に5日間滞在

Très bon séjour!

Very nice journey in Prague

Simon F. から Lyon France, 23. September 2013

September, 2013日後に3日間滞在

We had a very pleasant journey in Prague, stayed a couple of days there in a beautiful apartment, close to the old town and all the famous sights.

Great place to stay

New Jersey United States, 16. September 2013

August, 2013日後に4日間滞在

Very nice and clean apartment. Very convenient location close to everything. Very helpful management.

prague

Shauna M. から Toronto Canada, 27. August 2013

August, 2013日後に8日間滞在

a nice place

Large apartment next to Republicy namesti

CATHERINE R. から Montbonnot St Martin France, 06. August 2013

July, 2013日後に6日間滞在

excellent

Stay in the Klimt Apartment

France, 14. January 2013

January, 2013日後に7日間滞在

Very good stay: nice and large apartments, with all necessary furnitures and amenities.

Séjour à Prague

GRANVILLE France, 01. January 2013

December, 2012日後に6日間滞在

Appartement très grand, très bien situé (visites se font toutes à pied) très calme. Possibilité de faire ses courses à coté

Why not an apartment

Wade B. から Kelowna Canada, 15. September 2012

September, 2012日後に11日間滞在

The apartment's location was perfect for us for it was close to all the sites and close to the hotel where my wife attended a conference. The washer allowed us to pack "carry on only" which would be difficult to do in a hotel. The apartment also allowed us to share Prague with the locals. The agency was more than helpful and the written explanations for getting from/to airport were exceptional. The guide to local shops and restaurants was most helpful. Overall, a great stay.

good and safety place to stay with my family

---- France, 11. September 2012

August, 2012日後に3日間滞在

very nice place to stay. The check in/out is well organized by the rental compagny and they give us at the appartment all informations we need for our stay at the appartment and visiting Prague....very well appreciated. The appartment is well located, clean and in a quiet area. family from Montreal

Merveilleux!

Merignac France, 15. August 2012

August, 2012日後に6日間滞在

Je recommande Rentego à tous: suivi de qualité, interlocuteurs compétents et attentionnés, appartement très bien situé et très bien équipé!

Perfect!!!

Moissy Cramayel France, 23. January 2012

December, 2011日後に3日間滞在

My best holidays!!!
Thanks!

????????

Oleg S. から Ivano-Frankivsk Ukraine, 10. January 2012

January, 2012日後に2日間滞在

??????? ??????, ?????, ??? ?????? ????, ?? ??????? ? ???????. ?????? ????????. ?? ?????? ????? 10 ??????.

Great stay in a quiet and central area

Rotterdam Netherlands, 26. December 2011

December, 2011日後に23日間滞在

clean apartment, fully equipped, professional and friendly staff. fully recommended!

Great Stay at Klimt

Rotterdam Netherlands, 06. October 2011

September, 2011日後に30日間滞在

The apartment is very well located, clean, well-equipped and large. It is suitable for both short-term or long-term stays.

The Klimt apartment is located very centrally, so I can easily reach the Old Town Square by foot in 10 mins. The Florenc Bus and Metro Station is just five minutes away.

The apartment style is modern and has a warm atmosphere. The kitchen has almost everything you need, except for a dishwasher which would be really nice to have.

The rental agency usually replies quickly to mails and solves problems within short time.

All in all, Klimt is definitely a great flat to live during my stay in Prague!

Great stay !

cedric p. から lormont France, 11. July 2011

July, 2011日後に6日間滞在

This is our second location in Prague with RENTeGO. This is our second location in Prague RENTeGO. The city is wonderful, pleasant climate, the apartment is well located (not in the center, eliminating noise, but close enough to get there in five minutes by foot).

Great apartment !

Lucien S. から Ivry sur Seine France, 25. May 2011

May, 2011日後に4日間滞在

The apartment is very large with more than enough room for 5 people.
Perfecly clean.
The location is close to the Vltava, not too far from Old Town's Square.
For night-birds, it is also quite close to clubs and bars like Roxy and Sasazu while being in a quiet neighbourhood in order to sleep orderly :)

Peter C. から Kew Gardens United States, 26. April 2011

April, 2011日後に2日間滞在

Great stay in Prague, thanks to Rentego !

Philippe G. から PARIS France, 18. April 2011

April, 2011日後に7日間滞在

Excellent

Villeurbanne France, 03. April 2011

March, 2011日後に3日間滞在

Perfect.

Igor T. から Jerusalem Israel, 03. January 2011

December, 2010日後に2日間滞在

Try to keep the appartments clean from the tobacco smoke.
チェックイン/アウト
チェックイン時刻
以降のチェックイン 4:30 PM (から荷物を置いておける可能性 1:00 PM)
チェックアウト時刻
までにチェックアウト 11:00 AM (まで荷物を置いておける可能性 11:00 AM)
簡単なチェックイン
コードロックまたは個人的なお迎えにより、お客様は直接 ...に行くことができます
チェックイン/アウトに関するさらなる情報
アメニティ
アメニティ
アメニティ
このアパートのアメニティのリスト
このアパートのアメニティのリスト
Attractions

synagogues, churches, cinemas, festivals, live theater, museums, playground, restaurants, zoo

Location type

Downtown

Suitability

children welcome, non smoking only, pets considered, wheelchair inaccessible

アメニティ

toilet, tub

アメニティ

linens and towels provided, washing, non-smoking, heating, hair dryer, baby cot and baby chair (option), iron and ironing board, elevator in the building
エンターテイメント

radio and CD player

キッチン

coffee maker, microwave, oven, refrigerator, stove, toaster, dishes and utensils, Kitchen, Microwave

ビジネス

Free Mobile Hotspot, ATM nearby, free Internet (WIFI)

利便性

medical services nearby, grocery nearby, shopping center nearby, parking nearby, restaurants and bars nearby
間取図
間取図 この物件の大まかな間取図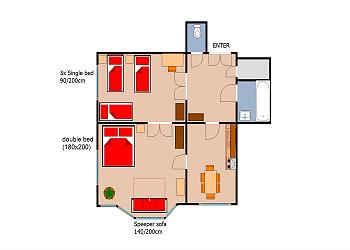 | | |
| --- | --- |
| Room | 部屋 |
| Hall | ホール |
| Kitchen | キッチン |
| Living-room | リビングルーム |
| Bathroom | バスルーム |
| Shower room | シャワールーム |
| Balcony | バルコニー |
| Terrace | テラス |
| Cloakroom | クロークルーム |
| Single Bed | シングルベッド |
| Double bed | ダブルベッド |
| Twin bed(s) | シングルベッド |
| Sleeper Sofa | スリーパーソファー |
| Mezzanine bed (usually a mattress on a wooden parquet) | 中二階のベッド(通常は木製の寄せ木細工上のマットレス) |
滞在期日に利用可能なアパートを見つける
-お客様が興味をお持ちかもしれない近くのアパート
Exact match:

SMETANA matches None (2.0), None (Center - New Town), None (Service 100% Rentego) :-)

2 ベッドルーム - for 4 宿泊者 (最大 7)

1泊*あたりの料金* from 52€ to 105€

Named after the famous czech composer, this bright and spacious apartment is situated in a calm district of Prague 1 Nove Mesto, 10 min walk from Old Town Square and Charles Bridge, with a view on the Vltava river and a small park close by.

Exact match:

MASARYK matches None (2.0), None (Center - New Town), None (Service 100% Rentego) :-)

2 ベッドルーム - for 3 宿泊者 (最大 7)

1泊*あたりの料金* from 46€ to 91€

Spacious and bright apartment for up to 5 persons, situated in Prague 1 - Nove Mesto, 7 minutes walk from Wenceslas Square, practically around the corner from Municipal House. You will be able to walk to the best places for culture or parties!

Exact match:

MOLDAU matches None (2.0), None (Center - New Town), None (Service 100% Rentego) :-)

2 ベッドルーム - for 3 宿泊者 (最大 5)

1泊*あたりの料金* from 46€ to 91€

Bright apartment, close to Vltava river, in central Prague, 10 min walk from Old Town Square. It is situated 2 min by walk from apartments KLIMT and SMETANA, which can be practical for groups. Park close by, quiet district.
ダウンロード
お客様が興味をお持ちかもしれない追加情報