検索
アパートの詳細& 料金の提案
予約する
ありがとうございます
KLARA
2 BR a minute walk from Old Town Square and Charles Bridge
2.5 ベッドルーム for 5 宿泊者 (最大 7)
Karoliny Svetle 12, Prague
説明
KLARA is a spacious and luminous duplex in a heart of Prague Old Town, next to National Theatre, 4 minutes walk from Charles Bridge and 8 minutes walk from Old Town Square. It is situated in the calm street, under the roof of a historical building with wooden ceilings creating warm and welcoming atmosphere. KLARA has a well-equipped kitchen where you can find everything necessary (microwave, toaster, to prepare your breakfast or simple meals. For those who want to work or keep in touch with family or friends, high-speed wireless internet connection is also provided. KLARA is a non-smoking apartment. To have an idea about its disposition, we advise you to have a look at the floorplan of the apartment (according to our website, the floorplan is usually under the description or among the pictures). KLARA is able to accommodate up to 7 people and thus represents a wise choice for group of friends or several families who want to visit Prague, considering its central location. In few minutes, you can reach the best places for cultural enrichment or just spending a quality time out.

Few centuries ago, the house used to be an Inn. In the courtyard, you can even see the pillars with rings where horses used to be attached. These days, this courtyard has become a agreedable terrace where is a pleasure to have a drink or lunch between friends - the restaurant is great and it is worth mentionning you are staying with RENTeGO - you will have a discount.

Karolíny Svetlé street used to make part of a route connecting Vyšehrad with the ford of Prague. Originally, its name was Svatoštepánská - Saint Stephen street - named after the chuch of Saint Stephen which used to make part of walls of the castle constructed in XIII. century. The only parts of these walls remaining conserved can be found at the courtyard of the police office at Bartolomejská street. At the corner of Konviktská street, you can spot the oldest of three rotundas of the city - rotunda of Svatého Kríže Menšího dated in the end of XI. century. We say that its surroundings were haunted by a hairy monster with long hair chasing especially young girls of bad reputation, particulary those who were frequent visitos of the neighbor pub U Jezuru. The monster was waiting for these poor women in the dark nooks of the rotunda, then jumped on their back and choke monster surely wanted to punish them for their sins. Luckily, any of our clients haven't meet him yet :)


Apartment use and noise: you commit to take care of the apartment and respect neighbours, particularly by respecting the interdiction of making noise between 22:00 (10 and 7 a.m. (which could result in 100 euros fine deducted from the damage deposit if neighbours complain about you and the police testify against you). Prague has many great places to party outside, and we wish you to enjoy it at best, the apartment is greatly located for that ;-)

CHECK-IN: from 4:30 p.m.
CHECK-OUT: until 11:00 a.m.
バスルーム

1

表面

82 m2

寝場所の手配

2 Twin, 2 Sleeper, 1 Double/Full Bed
レビュー
管理者は に推薦されて
ミシェラン・ツアーガイド2010
ミシェラン: すべてのアパートはプラハ1区にあり...ハイクオリティサービス...非常に魅力的な料金
プラハガイド
プラハガイドのテキスト
このアパートのレビュー者
Close to old town

Kathrine Gram M. から Store Heddinge Denmark, 19. July 2016

July, 2016日後に4日間滞在

Remember to book parking before arriving. Its impossible to park in the Streets.
Chairs are esambled wrong. Dishwasher poor. Elevator works every second time. Besides this we had a nice stay in Prague.

Response from RENTeGO

27. 7月 2016

Thank you for your feedback Kathrine. We will have a look at the problems you have reported, our technician has been already informed. Otherwise we are glad you had a good time here in Prague :)

Charming stay in Prague!

ON L5N 4Y2 United States, 12. July 2016

July, 2016日後に3日間滞在

The apartment was well appointed and in a great location! Very close to old town square. Plenty of room for all four guests and the beds were super comfy

Response from RENTeGO

27. 7月 2016

Thanks Katrina, we appreciate your nice feedback :)

Klara Apartment

Lena S A. から Nykobing Mors Denmark, 28. June 2016

June, 2016日後に3日間滞在

I think that in summer aircondition could be nice, since it's a penthouse and probably the warmest apartment in the building.

The windows need some kind of protection from small children, a safety thing. Very low windows, that every child could just jump out of.

Besides that, I think it's a beautiful apartment with a lot of space, and very clean and comfortable.

Klara flat near Charle's Bridge

Philippe M. から ASNIERES-SUR-SEINE France, 10. May 2016

April, 2016日後に5日間滞在

Flat very well located near the center of Prague with easy access to most famous locations, nice to discover the town by foot. Our stay was very pleasant, RENTeGO team is very profesional and reactive, your can rely on. I recommend.

Response from RENTeGO

23. 5月 2016

Thanks a lot Philippe, we're really happy that you enjoyed your stay with us :) See you next time!

good apartment

Meeranjali Perinpadas b. から Stuttgart Germany, 05. May 2016

April, 2016日後に3日間滞在

all in all it was realy good apartment

Response from RENTeGO

18. 5月 2016

Thank you very much!

Prague - location du 18 au 22-4

Florent V. から Bordeaux France, 24. April 2016

April, 2016日後に4日間滞在

Très bien. Il faut actualiser sur le site le trajet en transport en commun (la ligne 119 ne pose pas au même endroit que celui annoncé).

Response from RENTeGO

18. 5月 2016

Cher Florent, votre observation a été consignée et je vous remercie. Nous espérons de vous retrouver à la prochaine :)

Nice apartment with great location

florence h. から Strasbourg France, 15. April 2016

April, 2016日後に4日間滞在

The location is great and the appartement is clean. the appartement would be perfect for 6, well furnished and convenient. The bathroom very spacious. Very nice stay !

Response from RENTeGO

18. 5月 2016

Happy to hear that, Florence! See you next time :)

Schöne Ferienwohnung in toller, ruhiger Innenstadtlage

Rostock Germany, 08. February 2016

February, 2016日後に4日間滞在

Die Ferienwohnung befindet sich in der 4. Etage eines Hinterhauses in bester und zudem ruhiger Prager Innenstadt-Lage.

Ein Auto braucht man nicht, denn Straßenbahnen, Busse und Metro sind gut erreichbar. Selbst der Hauptbahnhof ist gerade einmal 20 Minuten Fußweg entfernt. Bei Anreise mit dem Auto sollte man unbedingt vorab auch einen Parkplatz reservieren, denn in der Umgebung gibt es nur wenige und zudem gebührenpflichtige Parkplätze, die auch ohne Anwohnerparkausweis genutzt werden können.

Die Wohnung ist praktisch eingerichtet und gut ausgestattet.

location Klara

Annie B. から ---- France, 14. January 2016

January, 2016日後に3日間滞在

Nous sommes très satisfaits de cette location, spacieuse, propre et très bien située.
Le service Rentego est particulièrement bon, les réponses aux questions sont rapides.

Alovely holiday in Prague

Anne-Francoise O. から NANTES France, 28. December 2015

December, 2015日後に6日間滞在

Very well situated in the heart of Prague's old city - Very pleasant to live in.

Response from RENTeGO

08. 4月 2016

Happy to hear that Anne-Francoise :) Thank you.

KLARA Praha

United States, 24. November 2015

November, 2015日後に2日間滞在

The team was really helpful and always available. We had some delays, but they waited for me to explain everything. The communication was really good and clear.

Response from RENTeGO

27. 11月 2015

We are pleased to hear that, Sorosh. It was nice having you here :)

Good value

Teemu P. から Joensuu Finland, 11. November 2015

November, 2015日後に4日間滞在

Klara was an inexpensive alternative with a good location.

Response from RENTeGO

13. 11月 2015

Thank you, Teemu, for your nice comment.

Weekend in Prague / Klara

Nina B. から United States, 05. November 2015

October, 2015日後に3日間滞在

The apartment was really nice, we enjoyed our stay there. It is big enough for 6 or 7 people and really comfortable. The contact with Rentego was also without any problems. I would book there again!

Response from RENTeGO

13. 11月 2015

Dear Nina, thank you very much for sharing your experience! You are always welcome to stay in our apartments :)

An unbelievable and perfect stay

Blegny Belgium, 20. October 2015

September, 2015日後に3日間滞在

We have been to Prague as a group of 14 people, and everything went perfectly. The apartments are huge and well situated. I definitely recommend Rentego !

Response from RENTeGO

20. 11月 2015

We are really pleased that you enjoyed your stay so much, Julien :) That is a big compliment for our team.

Birthday. Amazing clean good location recommend highly

Johnathan A. から Stratford upon Avon United Kingdom, 16. October 2015

September, 2015日後に3日間滞在

Birthday. Amazing clean good location recommend highly

Great place!

Marie P. から United States, 13. October 2015

September, 2015日後に3日間滞在

A friend and I stayed here on the second leg of our trip. From the beginning, this was a great company to work with. They mailed the keys to our hotel for the first leg of our trip so we had them in advance of checking it. This was so convenient as our train was delayed and we ended up arriving in Prague much later than we hoped. The apartment was clean, really quiet, very spacious and in a great location. I would recommend to anyone and would definitely revisit on my next trip to Prague. Thank you RENTeGO for a great experience!

Nice staf and very good apartment and very clean

Khalid A. から United States, 11. October 2015

October, 2015日後に5日間滞在

Dear Ms. Krestina
Thank you for all your help and your smile

Klara pour la découverte de la très belle Prague

PHILIPPE O. から SAGONE France, 01. October 2015

September, 2015日後に4日間滞在

Très bien situé. Confortable. Tous les déplacements se font à pied au coeur de la vielle ville. Parking Drtinova très bien sécurisé, accessible à pied avec une belle ballade. Mieux vaut décharger d'abord les bagages à l'appartement Klara.

good time

GIUSEPPINA A. から MILANO Italy, 17. September 2015

August, 2015日後に5日間滞在

very good

Response from RENTeGO

26. 9月 2015

Thank you, Giuseppina!

A lovely stay in the Klara apartment.

Telford United Kingdom, 28. August 2015

August, 2015日後に4日間滞在

We had a lovely stay in the Klara apartment. The apartment is exactly how it looks in the pictures, very clean and well maintained. We booked only a few days before arrival due to a problem with our previously booked accommodation and the manager was really good and helpful with our last minute booking. The apartment's location is really good, only a short walk to Prague's old town. The apartment had everything we needed from cutlery and kitchen utensils to bath towels. Our only problem was that there was no air conditioning so it was extremely warm inside as the temperature outside was close to 40 degrees. And also we couldn't get the television to work but that wasn't important as we were out exploring Prague all the time. Would definitely recommend to friends.

Response from RENTeGO

31. 8月 2015

Thank you very much James, we are glad that you enjoyed your stay in Klara! The summer in Prague is usually not as hot, but this year we've been lucky. :) However we provide fans in all our apartments just for these cases of extreme hot weather. Otherwise we hope you had a great time here in Prague, feel free to contact us for your next visit!

Klara in August

Patty H. から United States, 23. August 2015

August, 2015日後に5日間滞在

The apartment is cute and exactly like the pictures. The beds and everything were very clean! The code did not work upon arrival, though, which was a drag since it was 9:30 pm on a Sunday with our 3 kids and all our luggage and no phone to call rentego. We had to knock on the neighbor's door to use their phone... rentego helped immediately with a new code, but it would have been much better having the new code in advance. Also the elevator didn't work on the last few days and the shower head in the bathroom didn't stay up. There were only 2 bowls total in the cabinet dishes. All in all, despite these details, the location is super and the flat very nice, and rentego very easy to work with and helpful when we were making arrangements. We still enjoyed the flat and our stay!

Response from RENTeGO

31. 8月 2015

Thank you very much for your comment Patty! We highly recommend our guests to read carefully the instructions which we send by email, as the code does not work before the standard check-in time. It is also very convenient to have our emergency hotline number with you, which we also send in the Reservation Confirmation email with all other detailed instructions. Anyway we are glad that you enjoyed your stay and we would be happy to host you again here in magical Prague!

Good apartment

Simone P. から United States, 20. August 2015

August, 2015日後に3日間滞在

The apartment was wery good, the position too

Response from RENTeGO

21. 8月 2015

Thank you very much, Simone!

A perfect party weekend!

Loxwood, United Kingdom, 14. July 2015

July, 2015日後に2日間滞在

We came as a group of 14 girls to celebrate my sisters wedding. Half of the group stayed in klara apartment and the whole experience was perfect wouldn't have changed a thing! Some iPod speakers would have completed the experience. Thanks rentego

rental of klara and Karolina

Shazam Theatre C. から United States, 17. June 2015

May, 2015日後に4日間滞在

It was amazing. Spacious and everything you need. So central too.

weekend trip for prague

Copenhagen Denmark, 26. May 2015

May, 2015日後に3日間滞在

it was an overall good expereince and a good stay. the flat lived up to our needs and expectations.
but its second time i rent a flat through you and the second time we had troubles with the code for the door. thats an issue, but one from you staff were relativ fast at the flat to assist us. so it doesnt ruin the total Picture of the flat.

KLARA appartement

Michel B. から United States, 08. May 2015

May, 2015日後に5日間滞在

Globalement satisfait de l'appartement agréable et de son tres bon emplacement.
A améliorer cependant:
Menage derriere les meubles et la tele
Nous avons beaucoup aimé les prestations de l'agence avangarde
beaucoup d'ampoules électriques ne fonctionnent pas
Tres mauvaises odeurs de wc dans la salle de bain

prestation conforme au descriptif

Beatrice D. から chambost longessaigne France, 30. March 2015

March, 2015日後に7日間滞在

un appartement très bien situé,dans un quartier calme mais des détails pourraient être améliorés : revoir le système de stores et occultation des fenêtres de toit, de nombreuses ampoules électriques sont à changer;l'immeuble est un peu vieux et certains locataires sont bruyants la nuit.Nous avons eu plusieurs changements de code pour ouvrir la porte de l'appartement( 3 codes différents). Le fait de ne pas faire d'état des lieux est sympa mais par exemple les verres à pied étaient en nombre insuffisant : nous avons acheté 6 verres pour remplacer ceux qui étaient rangés cassés ou fendus dans le placard.Tout ceci n'est que détails , l'ensemble étant correct , rapport qualité /prix rien à dire !

Séjour en mars 2015

LE MANS France, 22. March 2015

March, 2015日後に5日間滞在

Quelques petits soucis à l'arrivée :
- le courrier reçu, comportant le code et la clé, correspondait à un autre logement, occupé, heureusement situé dans le même immeuble. Du coup, grosse surprise en arrivant. L'équipe de Rentego a pu gérer le problème a distance et nous communiquer les codes correspondant à notre appartement,
- cafetière avec de la moisissure dedans : heureusement que j'ai vérifié l'état de propreté avant de lancer un café...
Sinon, mis à part ces petits désagréments, l'appartement est spacieux, propre et très bien situé. La literie est confortable. L'appartement est équipé de tout le nécessaire.

Great holiday in Prag

Gretz-Armainvilliers France, 01. March 2015

February, 2015日後に5日間滞在

The appartment was for 4 adults. It is big, clear, calm, clean and nicely furnished. The location is just great, a few minutes walk from most of Prag's highlights. We enjoyed it a lot.

nice

koby vered b. から United States, 18. January 2015

January, 2015日後に5日間滞在

very good location few minutes from the old Town Square

Excellent service

Alexandra P. から Forbach France, 09. January 2015

December, 2014日後に3日間滞在

Nous avons passé 3 jours merveilleux à prague dans cet appartement. Seul bémole : dommage que les chaines tv françaises ne fonctionnent pas ... Sinon l'appartement est vraiment bien situé, endroit stratégique pour visiter la ville.

Great trip to Prague

mary fraces g. から Tomball United States, 26. October 2014

October, 2014日後に5日間滞在

The reason for the low mark on property condition...the elevator did not work for a full day. We were forced to rent a hotel room as one of our party could not climb stairs due to a surgery. This was a HUGE problem - however I appreciate it was repaired quickly, however this problem cost us money . I feel the furniture could be updated - and the bedding (pillows/comforter) needs washings . appreciated the washer/dryer being avail
overall it was a great experience - the location could not have been better and RENTGO was a fabulous company to work with

Great Apartment Location

Geoff K. から Bonn Germany, 20. October 2014

October, 2014日後に4日間滞在

Pros: Very nice stay. Large space. Good value. Fantastic location. Excellent wifi.
Cons: Tiled floors must be wet mopped, not just swept. Clothes washer is musty and smells. So the bathroom also smells. Must be run more often to flush out the pipes.

My time in Prague

United States, 07. September 2014

August, 2014日後に2日間滞在

Renting a flat in Prague was a good experience.

a very nice stay

Madrid Spain, 17. July 2014

July, 2014日後に3日間滞在

We liked a lot the appartment, it was vomfortable and really well placed in Prague. There was no need to take public transport to view the city because everything was near!

First visit to Prague

United States, 15. July 2014

June, 2014日後に4日間滞在

We really enjoyed our first visit to Prague, we stayed at the Klara apartment.
The location was fantastic &'safe.
It was the ideal place for our family to relax after seeing the sights.
The Rentego team was helpful and very efficient.
My children loved the loft style bedroom
Thank you Ivan for fixing the tv for World Cup husband appreciated you coming by.


superbe

Nimes United States, 24. June 2014

May, 2014日後に5日間滞在

voyage loisirs

Nice and easy

Murlo Italy, 06. May 2014

May, 2014日後に3日間滞在

Clean, low cost, close to city center.

nice rentego's appartement in Praha's center

didier R. から evette Salbert France, 04. May 2014

April, 2014日後に4日間滞在

easy to book ; professional , précis, bon marché

Exellent rapport qualité prix

patrick B. から JOUY LE POTIER France, 28. April 2014

April, 2014日後に5日間滞在

Appartement bien situé dans PRAGUE, au calme avec des restaurants a proximité de bonne qualité et trés abordable.


Nice Flat !

Benjamin F. から Krems an der donau Austria, 24. January 2014

January, 2014日後に3日間滞在

The flat was perfect for few days and maybe more.
Good localization and good furniture.
I will come back for sure :)

Wonderful vacation

Sherbrooke Canada, 30. December 2013

December, 2013日後に6日間滞在

Very good

Amazing flat in the center

Sebastien B. から Fake city United States, 13. November 2013

November, 2013日後に3日間滞在

The location of Klara is perfect, the flat itself is very spatious and includes everything you need for your stay, even hairdryer, iron & ironing board, etc.
Definitely our first choice next time we're in Prague... Thanks to the whole Rentego team!
チェックイン/アウト
チェックイン時刻
以降のチェックイン 4:30 PM (から荷物を置いておける可能性 1:00 PM)
チェックアウト時刻
までにチェックアウト 11:00 AM (まで荷物を置いておける可能性 11:00 AM)
簡単なチェックイン
コードロックまたは個人的なお迎えにより、お客様は直接 ...に行くことができます
チェックイン/アウトに関するさらなる情報
アメニティ
アメニティ
アメニティ
このアパートのアメニティのリスト
このアパートのアメニティのリスト
Attractions

churches, cinemas, festivals, live theater, museums, restaurants, synagogues, zoo

Location type

Downtown

Suitability

children welcome, non smoking only, pets considered, wheelchair inaccessible

アメニティ

shower, toilet

アメニティ

linens and towels provided, washing, non-smoking, heating, hair dryer, baby cot and baby chair (option), iron and ironing board, washing with dryer
エンターテイメント

television, radio and CD player, satellite

キッチン

microwave, toaster, Kitchen, coffee maker, dishwasher, oven, refrigerator, stove, dishes and utensils

ビジネス

ATM nearby, free Internet (WIFI), writing desk

利便性

medical services nearby, grocery nearby, shopping center nearby, parking nearby, restaurants and bars nearby
間取図
間取図 この物件の大まかな間取図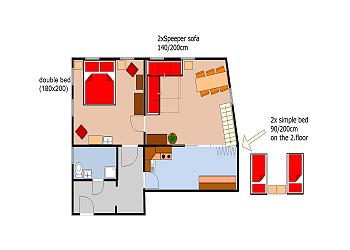 | | |
| --- | --- |
| Room | 部屋 |
| Hall | ホール |
| Kitchen | キッチン |
| Living-room | リビングルーム |
| Bathroom | バスルーム |
| Shower room | シャワールーム |
| Balcony | バルコニー |
| Terrace | テラス |
| Cloakroom | クロークルーム |
| Single Bed | シングルベッド |
| Double bed | ダブルベッド |
| Twin bed(s) | シングルベッド |
| Sleeper Sofa | スリーパーソファー |
| Mezzanine bed (usually a mattress on a wooden parquet) | 中二階のベッド(通常は木製の寄せ木細工上のマットレス) |
滞在期日に利用可能なアパートを見つける
-お客様が興味をお持ちかもしれない近くのアパート
ダウンロード
お客様が興味をお持ちかもしれない追加情報