検索
アパートの詳細& 料金の提案
予約する
ありがとうございます
KAROLINA
Spacious 3 BR 4min walk from Charles Bridge and Old Town Square
3 ベッドルーム for 3 宿泊者 (最大 3)
Karoliny Svetle 12, Prague
説明
KAROLINA is a spacious and luminous duplex in a heart of Prague Old Town, next to National Theatre, 4 minutes walk from Charles Bridge and 8 minutes walk from Old Town Square. In few minutes, you can reach the best places for cultural enrichment or just spending a quality time out! It is situated in the calm street, under the roof of a historical building with wooden ceilings creating warm and welcoming atmosphere. KAROLINA has a well-equipped kitchen where you can find everything necessary (microwave, toaster, to prepare your breakfast or simple meals. For those who want to work or keep in touch with family or friends, high-speed wireless internet connection is also provided. KAROLINA is a non-smoking apartment. To have an idea about its disposition, we advise you to have a look at the floorplan of the apartment (according to our website, the floorplan is usually under the description or among the pictures). KAROLINA is able to accommodate up to 3 people.

Few centuries ago, the house used to be an Inn. In the courtyard, you can even see the pillars with rings where horses used to be attached. These days, this courtyard has become a agreedable terrace where is a pleasure to have a drink or lunch between friends - the restaurant is great and it is worth mentionning you are staying with RENTeGO - you will have a discount.

Karolíny Svetlé street used to make part of a route connecting Vyšehrad with the ford of Prague. Originally, its name was Svatoštepánská - Saint Stephen street - named after the chuch of Saint Stephen which used to make part of walls of the castle constructed in XIII. century. The only parts of these walls remaining conserved can be found at the courtyard of the police office at Bartolomejská street. At the corner of Konviktská street, you can spot the oldest of three rotundas of the city - rotunda of Svatého Kríže Menšího dated in the end of XI. century. We say that its surroundings were haunted by a hairy monster with long hair chasing especially young girls of bad reputation, particulary those who were frequent visitos of the neighbor pub U Jezuru. The monster was waiting for these poor women in the dark nooks of the rotunda, then jumped on their back and choke monster surely wanted to punish them for their sins. Luckily, any of our clients haven't meet him yet :)


Apartment use and noise: you commit to take care of the apartment and respect neighbours, particularly by respecting the interdiction of making noise between 22:00 (10 and 7 a.m. (which could result in 100 euros fine deducted from the damage deposit if neighbours complain about you and the police testify against you). Prague has many great places to party outside, and we wish you to enjoy it at best, the apartment is perfectly located for that ;-)


PLUSES AND MINUSES:
+ Karolina is located in the very center of Prague's Old Town, only 5 minutes of walk from the Old Town Square
+ There is a washing machine which can be really convenient for longer stays
+ The apartment has a fully equipped kitchen
+ High-speed wifi provided
+ Many nice cafés and restaurants in the neighbourhood
+ Secured parking within 5 minutes' walk from the apartment (optional - not included in price)
- The apartment is situated on the 3rd floor without an elevator


CHECK-IN: from 4:30 p.m.
CHECK-OUT: until 11:00 a.m.
バスルーム

1

表面

76 m2

寝場所の手配

2 Twin, 2 Sleeper, 1 Double/Full Bed
レビュー
管理者は に推薦されて
ミシェラン・ツアーガイド2010
ミシェラン: すべてのアパートはプラハ1区にあり...ハイクオリティサービス...非常に魅力的な料金
プラハガイド
プラハガイドのテキスト
このアパートのレビュー者
Vacances à Prague

Sylvain V. から CROIX France, 22. August 2016

August, 2016日後に6日間滞在

Bel appartement, bien équipé et super bien placé.
A recommander

Response from RENTeGO

23. 8月 2016

Merci!

a suprisingly large apartment

Milan Ftacnik b. から United States, 18. August 2016

August, 2016日後に2日間滞在

The apartment is suprisngly large – there is a living room, where you can convert couch and armchair into 3 more beds, so in total, with 2 bedrooms (each having 2 beds) you can make it work for 7 people to sleep at the apartment. Any way, using just the bedrooms gives you opportunity to enjoy the café in the living room and still have room to sleep in the bedrooms

Response from RENTeGO

23. 8月 2016

Thank you for your review, Milan! You are right that Karolina is very spacious, however it is really suitable only for 3 guests. The reason is the capacity of the whole building, which is limited.

vacances du 18 juillet au 25 julllet

Villejuif France, 27. July 2016

July, 2016日後に7日間滞在

très bien juste il serait nécessaire de prévenir que l'appartement se trouve au 3ème étage sans ascenseur au cas où des personnes âgées voudraient y loger.

Response from RENTeGO

27. 7月 2016

Merci Francoise! Oui, c'est vrai que l'appartement n'est pas recommandé pour les personnes qui ont un problem avec la situation au 3eme étage sans ascenseur.

Karolina

Caroline L. から ASNIERES France, 17. July 2016

July, 2016日後に5日間滞在

Agréable appartement bien équipé
Sauf - le manque de tablettes de rangement dans la salle de ******
- le réfrigérateur non dégivré
- rongeur bruyant sous le toit

Response from RENTeGO

03. 8月 2016

Merci pour vos remarques pertinentes, Caroline, notre technicien s'en occupera. À la prochaine!

Recommend :)

Hajduk P. から United States, 12. July 2016

June, 2016日後に2日間滞在

good place for people looking for a place near the old center. Everywhere is close. housing conditions are very good. contact with the office was very nice. I recommend

Response from RENTeGO

27. 7月 2016

Thank you Hajduk, we would be happy to accommodate you next time you're in Prague :)

Great Apartments

Vahlde Germany, 11. July 2016

July, 2016日後に3日間滞在

Overall it was a great holiday and a great service from Rentego! Thanks for it!

Response from RENTeGO

27. 7月 2016

Thanks Julian! Hope to see you next time :)

Just Right

Connie D. から Westford United States, 15. June 2016

May, 2016日後に3日間滞在

The Karolina was PERFECT for our family. One adult (60's) couple and our son & guest (20's). The two bedroom were perfect. The rental is within walking distance to all the sightseeing/historical places in Prague. Along with any type restaurant you could want. The picture are just as it is. Clean, comfortable and easy to use. No lift, so be prepared to walk 3 easy flights. We were visiting in June and and windows all open and let in a nice breeze in the evening. I would stay here again.


Response from RENTeGO

06. 7月 2016

Nice to hear that you enjoyed you stay in Karolina, Connie. The location of Karolina is truly amazing - in the very center, yet still in a calm place, I would happily stay there myself :)

Great service!

Timothy C. から Bloomington United States, 05. June 2016

May, 2016日後に3日間滞在

We had a very pleasant stay and the whole Rentego team was very attentive to our needs. They were very responsive to emails and calls. We had one small issue with the apartment and it was quickly resolved. I highly recommend renting from them!

Response from RENTeGO

29. 6月 2016

Thanks a lot Timothy, we are glad you were satisfied with our service and we hope you had a pleasant stay in Prague!

staying at pragues

fabienne m. から vassieux en vercors France, 02. June 2016

April, 2016日後に4日間滞在

location très bien placée , calme .problème d' évacuation pour la ****** non résolu malgré notre demande, les autres problèmes ont été solutionnés.

Homely apartment in a central and calm location!

---- France, 25. April 2016

April, 2016日後に4日間滞在

We enjoyed our stay in Karolina apartment close to Charles Bridge, Old Town, and Welcensas Square. Everything is at a walking distance including food store, bakery, and tramways. The apartment is on a top floor (no lift but the staircase is not steep!) in a building located in a courtyard. It is very quiet in spite of being in town and we could hear the birds chipping in the morning. The beds are very comfortable and the living room is spacious enough. Wifi worked well and there is a small radio to play music. We felt like at home very quickly and recommend this apartment!

Response from RENTeGO

18. 5月 2016

Thank you very much, Dominique! Hope to see you next time :)

Everything was ok except the noise

Paris France, 04. April 2016

March, 2016日後に7日間滞在

There is a restaurant in the court which made a lot of noises in the night. For example, in a Friday/Saturday night, it was impossible to sleep before 1.00 am and we were awoken severals times until 4.00 am.

Response from RENTeGO

08. 4月 2016

We're sorry about that Philippe, we know that this can be unpleasant, however there is nothing we can do about that. The noise is one of the drawbacks of being in the very center of a metropolis. We recommend our guests to call the police in case of a big noise, because that is forbidden at night (between 22h - 6h ) by the Czech law. Otherwise we hope you had a great stay in Prague.

Modern apartment between old town and new

Eight mile plains Australia, 13. January 2016

December, 2015日後に6日間滞在

We had an excellent experience at this apartment during Christmas. Four of us stayed for a week and it was very comfortable.

satisfaction

Michel D. から Morbecque France, 24. December 2015

December, 2015日後に3日間滞在

spacious location for 6 pers, clean, best situation,

Response from RENTeGO

08. 4月 2016

Thanks a lot Michel.

Other apartment, good location

Joschua Forster B. から United States, 17. November 2015

November, 2015日後に3日間滞在

On the pictures in was an other, more beautiful, apartment. Our apartment was not very clean an not that big for six people. The location and the price are perfect.

Response from RENTeGO

19. 11月 2015

Thank you for sharing your review, Joschua. Unfortunately, since you have booked the apartment via another server, it is not as easy to show precisely this one apartment, as the system is more suitable for hotels, however we are trying to make it as clear as possible. Otherwise we are glad that you were satisfied with our services!

Weekend in Prague / Karolina

Nina B. から United States, 05. November 2015

October, 2015日後に3日間滞在

We booked two apartments for the weekend in Prague. The contact with rent-e-go was really nice and always without any problem. But I was not so happy about where the both apartments where situated. Rent-e-go told me that they were close to each other. And they had the same addresses. So i thought that they were in the same building, but i was taught wrong. We had to walk in an other building to be with our friend. That was the only thing i was not pleased about. But anyway the stay was great!

Response from RENTeGO

13. 11月 2015

Dear Nina, thank you very much for sharing your experience! We are glad that you were satisfied with our services. As for the two apartments Klara and Karolina, they are situated in the same building block, separated only by a courtyard, we also tried to explain this before you had booked the apartment. We are sorry for the misunderstanding. We would be happy to host you again in the future!

Prague en automne

laurent v. から Paris France, 02. November 2015

October, 2015日後に5日間滞在

Très satisfait de cet appartement (malgré un environnement un peu bruyant)et des prestations de Rentego.

Response from RENTeGO

13. 11月 2015

Merci Laurent, n'hésitez pas à nous contacter pour votre séjour prochain à Prague!

Perfect and unbelievable stay in Prague

Blegny Belgium, 20. October 2015

September, 2015日後に3日間滞在

We have been to Prague as a group of 14 people, and everything went perfectly. The apartments are huge and well situated. I would definitely recommend Rentego !

Response from RENTeGO

20. 11月 2015

Thanks so much for this huge compliment, Julien! We are looking forward to hosting you again in our beautiful city :)

RENTAL Karolina

Russia, 12. October 2015

September, 2015日後に7日間滞在

It was great!

Great Unit in a Great Location

Cedric P. から Collaroy Australia, 20. September 2015

August, 2015日後に3日間滞在

Very professional team with great communication skills. A very pleasant stay close to the centre of Prague.

Response from RENTeGO

26. 9月 2015

We are happy that you enjoyed your stay here, Cedric! Feel free to contact us anytime for your next visit :)

Happy journey

frederique c. から liniez France, 17. September 2015

August, 2015日後に5日間滞在

no comment, it was perfect!

Response from RENTeGO

26. 9月 2015

Thanks a lot, Frederique!

Prag in September 2015

Matthias R. から Ingersleben Germany, 14. September 2015

September, 2015日後に3日間滞在

it was allover perfect. perfect pricing, nice flat, perfect located. 5/5 Stars.

Response from RENTeGO

26. 9月 2015

That's very kind of you, Matthias! We are glad that you enjoyed your stay here, thank you very much :)

A nice apartment

Orsay France, 07. September 2015

September, 2015日後に4日間滞在

A too noisy apartment all the night.

Response from RENTeGO

26. 9月 2015

Thank you for your comment Corinne, unfortunately sometimes can happen that the neighbors are noisy, however Karolina is situated in a very calm street. We are sorry for your trouble, we hope that otherwise you had a pleasant stay.

Very good apartment

Simone P. から United States, 20. August 2015

August, 2015日後に3日間滞在

Ok the rookms and the positions, very confortable apartment.


Response from RENTeGO

21. 8月 2015

Thanks a lot, Simone :)

Great Place to stay

Corina S. から 02689 Sohland Germany, 15. August 2015

July, 2015日後に2日間滞在

The flat was very clean, tidy and spacious. We found everything we needed. The beds were comfortable, there was a fridge, shower, washing machine, kettle, hotplates, everything one needs in a home. It was perfect. Great location. We had a lovely time. Thank you. We did not meet anyone from the rental team, but any questiomns we had were answered by e-mail straight away. Great service, lovely flat, 5 stars!

Response from RENTeGO

18. 8月 2015

Dear Corina, Thank you for staying with us :) We greatly appreciate that you took the time to write that you enjoyed your stay. Do not hesitate to contact us the next time you come to Prague!

Karolina Apartment # 12

Michael I. から Oakville Canada, 11. August 2015

August, 2015日後に3日間滞在

I stayed here with my daughter and we had a very good experience. It was a very hot time in the summer (daytime temperatures were 35 degrees) and the apartment was not air conditioned, but there were three good sized fans that made sleeping tolerable. The location was great. Very close to everything in the old town. Our driver, Jaroslav, was very helpful. When we got there the internet did not work but they sent someone within a couple of hours to fix it. Overall we had a very nice stay and would certainly recommend it to anyone we know.

Response from RENTeGO

18. 8月 2015

Dear Michael, Thank you for your review, we are delighted to hear you enjoyed your time here.

excellent

La Gaude France, 25. April 2015

April, 2015日後に5日間滞在

Excellent location
3 storey to climb to the appartment : i would not bring grandma but fine for us 4
clean calm place had coffee and tea too

Everything ok

Marguerite R. から SAINT DENIS France, 27. February 2015

February, 2015日後に2日間滞在

We appréciâtes the place, the âprement. Just a problème at arrivât with access code which your sympathie technicien solved

Great service

Thierry P. から Lausanne Switzerland, 22. February 2015

February, 2015日後に5日間滞在

Rented 3 appartment for a class of 20 students. Great service and communication. Problem with the heater in one of the appartment, but solved quickly after it was reported. Definetly will go through Rentego if I have to plan another trip to Prague

???????? ????????, ???????? ??????? RENTeGO ? ???????????? ?????

Radik Nurmukhametov a. から United States, 11. February 2015

February, 2015日後に3日間滞在

??? ??? ???????????, ??????? ????????, ??? ??????? ?? ??????? ??????, ???????, ??????? ????????

.

Romania, 11. February 2015

January, 2015日後に4日間滞在

.

nice apartment, good location

Monika M. から Puchheim Germany, 21. January 2015

December, 2014日後に4日間滞在

Really nice apartment in Praha 1.
It's just a 10 minutes walk to the center of the city.
The rooms are big enough to stay there with 6 or 7 persons. I would stay there anytime again.

none

QUIMPER France, 22. November 2014

October, 2014日後に3日間滞在

We appreciated to be in the center fo the town.
So, we could organize ours visits by foot.
We appreciated the high quality of the agency services .

Karolina

Catherine V. から St-Denis de Brompton Canada, 15. October 2014

September, 2014日後に5日間滞在

Well appointed appartment, very well located near all Prague attractions and downtown.
Prompt service for a minor repair.
Some kitchen tools would have been useful, like a table cloth, more dishtowels, cutting board.
Heat was on in main floor bedroom, which made the nights very hot.
But overall very satisfied.

Sejour très agréable

le mans France, 03. August 2014

July, 2014日後に7日間滞在

Une semaine en famille au rythme de l'été. Alternance de visites, de temps calmes sur les iles et sur la Vltava. L'équipe Rentego a été super. Service professionnel.

Wonderful time in Prague

Cristina Moreno M. から Madrid Spain, 26. July 2014

July, 2014日後に2日間滞在

My rental experience was very enjoyable and recomendable. The appartment was very nice and clean and very well located therefore the pictures and description in the web are very realistic . The RenteGo people was very nice and helpful when we had certain travel incidences. This rental was a very good experience if I´ll back to Prague, I'll call again RenteGo

superbe

Nimes United States, 24. June 2014

May, 2014日後に5日間滞在

voyage loisirs

holidays

Mont-Saint-Aignan France, 25. May 2014

May, 2014日後に4日間滞在

very good experience

Sejour

BERNARD M. から Villeurbanne France, 20. May 2014

April, 2014日後に5日間滞在

Tout était parfait

Presque parfait

Alain C. から mont-de-Marsan France, 08. May 2014

April, 2014日後に6日間滞在

Parfaitement situé et très calme, très bonne literie mais seul bémol salle d'eau petite pour 6 et associée au WC

appartement Karolina

Vannes France, 24. March 2014

March, 2014日後に4日間滞在

Superbe séjour à prague ( 2 adultes et trois adolescents)
l'appartement est idéalement placé, prague se visite à pied.
Nous avons apprécié la formule chauffeur proposée par rentego pour joindre l'aeroport à l'appartement.

Ravis d'avoir découvert Prague à Noël

Christine J. から BIZANOS France, 12. January 2014

December, 2013日後に5日間滞在

Nous avons passé 5 jours dans l'appartement Karolina et tout était parfait : nous étions près de tout, le quartier est très calme et l'appartement spacieux (nous étions 4) et très agréable. Nous avons eu un petit souci avec le chauffe-eau le jour de Noël mais dès que nous avons prévenu les l'agence, tout est rentré dans l'ordre très vite. Merci à toute l'équipe pour sa disponibilité.
チェックイン/アウト
チェックイン時刻
以降のチェックイン 4:30 PM (から荷物を置いておける可能性 1:00 PM)
チェックアウト時刻
までにチェックアウト 11:00 AM (まで荷物を置いておける可能性 11:00 AM)
簡単なチェックイン
コードロックまたは個人的なお迎えにより、お客様は直接 ...に行くことができます
チェックイン/アウトに関するさらなる情報
アメニティ
アメニティ
アメニティ
このアパートのアメニティのリスト
このアパートのアメニティのリスト
Attractions

churches, cinemas, festivals, live theater, museums, restaurants, synagogues

Location type

Downtown

Suitability

children welcome, non smoking only, pets considered, wheelchair inaccessible

アメニティ

toilet, shower

アメニティ

linens and towels provided, washing, non-smoking, heating, hair dryer, baby cot and baby chair (option), iron and ironing board
エンターテイメント

radio and CD player

キッチン

microwave, Kitchen, coffee maker, refrigerator, stove, toaster, dishes and utensils

ビジネス

ATM nearby, free Internet (WIFI)

利便性

medical services nearby, grocery nearby, shopping center nearby, parking nearby, restaurants and bars nearby
間取図
間取図 この物件の大まかな間取図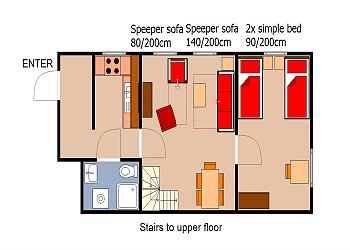 | | |
| --- | --- |
| Room | 部屋 |
| Hall | ホール |
| Kitchen | キッチン |
| Living-room | リビングルーム |
| Bathroom | バスルーム |
| Shower room | シャワールーム |
| Balcony | バルコニー |
| Terrace | テラス |
| Cloakroom | クロークルーム |
| Single Bed | シングルベッド |
| Double bed | ダブルベッド |
| Twin bed(s) | シングルベッド |
| Sleeper Sofa | スリーパーソファー |
| Mezzanine bed (usually a mattress on a wooden parquet) | 中二階のベッド(通常は木製の寄せ木細工上のマットレス) |
滞在期日に利用可能なアパートを見つける
-お客様が興味をお持ちかもしれない近くのアパート
Exact match:

SYNAGOGA matches None (3.0), None (Center - Old Town), None (Service 100% Rentego) :-)

3 ベッドルーム - for 5 宿泊者 (最大 7)

1泊*あたりの料金* from 69€ to 139€

Bright and spacious apartment 2 minutes walk from Old Town Square. A great location in the very heart of historical Prague. You will also have an exclusive view of the green Old Jewish Cemetery.
ダウンロード
お客様が興味をお持ちかもしれない追加情報