検索
アパートの詳細& 料金の提案
予約する
ありがとうございます
IRIS
Bright duplex 4 BR 4min walk from Charles Bridge and Old Town Square
4.5 ベッドルーム for 10 宿泊者 (最大 14)
Karoliny Svetle 14, Prague
説明
Iris is a spacious and luminous duplex (167m2) in a heart of Prague Old Town, next to National Theatre, just 4 minutes walk from Charles Bridge and 8 minutes walk from Old Town Square. In few minutes, you can reach the best places for cultural enrichment or just spending a quality time out. It is situated in the calm street, under the roof of a historical building with wooden ceilings creating warm and welcoming atmosphere. Iris has a well-equipped kitchen where you can find everything necessary (microwave, toaster, to prepare your breakfast or simple meals. For those who want to work or keep in touch with family or friends, high-speed wireless internet connection is also provided. Iris is a non-smoking apartment. To have an idea about its disposition, we advise you to have a look at the floorplan of the apartment (according to our website, the floorplan is usually under the description or among the pictures). Iris is able to accommodate from 10 up to 16 people and thus represents a wise choice for group of friends or several families who want to visit Prague

Few centuries ago, the house used to be an Inn. In the courtyard, you can even see the pillars with rings where horses used to be attached. These days, this courtyard has become a agreedable terrace where is a pleasure to have a drink or lunch between friends - the restaurant is great and it is worth mentionning you are staying with RENTeGO - you will have a discount.

Karolíny Svetlé street used to make part of a route connecting Vyšehrad with the ford of Prague. Originally, its name was Svatoštepánská - Saint Stephen street - named after the chuch of Saint Stephen which used to make part of walls of the castle constructed in XIII. century. The only parts of these walls remaining conserved can be found at the courtyard of the police office at Bartolomejská street. At the corner of Konviktská street, you can spot the oldest of three rotundas of the city - rotunda of Svatého Kríže Menšího dated in the end of XI. century. We say that its surroundings were haunted by a hairy monster with long hair chasing especially young girls of bad reputation, particulary those who were frequent visitos of the neighbor pub U Jezuru. The monster was waiting for these poor women in the dark nooks of the rotunda, then jumped on their back and choke monster surely wanted to punish them for their sins. Luckily, any of our clients haven't meet him yet :)

EXCEPTIONAL CONDITIONS: This apartment is exceptionally large and expensively furnished, so there are exceptional conditions:
1. The damage deposit - 400 euros- will be blocked or debited from your credit card from the first day of your stay.
2. It will be returned to you/unblocked only after an exit inventory conducted together in person. (You will conduct the check-in inventory by yourselves using the photo inventory provided in the apartment and letting us know of anything not matching the pictures, but that should not happen because our cleaning team checks the apartment before arrival).

Apartment use and noise: you commit to take care of the apartment and respect neighbours, particularly by respecting the interdiction of making noise between 22:00 (10 and 7 a.m. (which could result in 100 euros fine deducted from the damage deposit if neighbours complain about you and the police testify against you). Prague has many great places to party outside, and we wish you to enjoy it at best, the apartment is greatly located for that ;-)

PLUSES AND MINUSES:
+ Iris is located in the very center of Prague's Old Town, only 5 minutes of walk from the Old Town Square
+ Very nice and spacious apartment (can accomodate up to 14 guests)
+ A dishwasher and washing machine are available in the apartment
- The apartment is situated on the 4th floor without an elevator
- Some renters smell an odor in the lower bathroom
バスルーム

2

表面

166 m2

寝場所の手配

3 Twin, 4 Sleeper, 2 Double/Full Bed
レビュー
管理者は に推薦されて
ミシェラン・ツアーガイド2010
ミシェラン: すべてのアパートはプラハ1区にあり...ハイクオリティサービス...非常に魅力的な料金
プラハガイド
プラハガイドのテキスト
このアパートのレビュー者
Perfect!

REBECCA N. から Buxton, SK17 9AA United Kingdom, 23. August 2016

August, 2016日後に2日間滞在

Everything about staying at this apartment was fantastic! They layout was perfect for us and we were amazed how close we were to the centre of prague

Iris and Violet were exceptional

Kathy H. から Seabrook United States, 19. August 2016

June, 2016日後に8日間滞在

we enjoyed the property very much. So conveniently located near tram routes, grocery stores, another places of interest. We found the Rentego staff to be very quick to respond to our questions and very helpful. They are very customer-oriented. The property was spacious and provided an ideal home for our extended family as we prepared for a family wedding in Prague. Very clean and nicely decorated.

Fantastic!

Mielad S. から Bonn Germany, 15. August 2016

July, 2016日後に6日間滞在

Rentego fullfilled all of our wishes. The WC-door upstairs didn't have a key. One day later a technician came by and gave a key.
The fans and the TV were also a really nice service. I would recommend everyone to book a rentego appartment. Best service I have seen so far.

We had an amazing time!

United States, 12. August 2016

August, 2016日後に7日間滞在

We had an amazing stay in the Iris apartment. The location is perfect and the apartment is very nice. We would defenitly stay in this apartment again if we visit Prague again.

Good overall

Nuremberg Germany, 08. August 2016

July, 2016日後に3日間滞在

Beautiful apartment, in a perfect location and amazing staff!
However the shower temperature was unstable and frequently turned cold.

Prague Iris Apartment

Lafayette United States, 24. July 2016

July, 2016日後に3日間滞在

very much enjoyed the apartment; it was spacious and well furnished. the only thing i noticed was an odor coming from the bathroom; I was told because it was an old building it was coming from the pipes.

Response from RENTeGO

03. 8月 2016

Thanks a lot Janet! There's really nothing we can do about the pipes, we are aware of that problem, however it is impossible for us to change it since we are not the owners of the whole building. We hope that despite this issue you had a nice stay and we would be happy to host you during your next visit :)

Mrs.

Fountain Valley United States, 16. July 2016

June, 2016日後に2日間滞在

Iris house is very clean,charming,and comfortable. It is in an ideal location. There is plenty of room in the house for 14+ guests.

Response from RENTeGO

27. 7月 2016

Thank you Tracy, see you next time!

Central place to discover the city

Marvin R. から United States, 05. July 2016

June, 2016日後に3日間滞在

Spacy place for 10. More people have limited space for dinner and with two bathrooms. 4th floor without elevator (no problem for us but for smokers to walk down each time). Cool bar/club in the courtyard. Very nice contact to the Rentego-team! Rentego should renovate the flat from time to time to keep it up!

Response from RENTeGO

06. 7月 2016

Thank you for the nice feedback Marvin! Renovation is on our list, hope to see you next time you're in Prague :)

Prague review

Penfiedl United States, 23. June 2016

June, 2016日後に4日間滞在

Apartment was clean and ready on time. It was a hike getting up stairs.

Response from RENTeGO

29. 6月 2016

Thank you Janice for the nice comment :)

Good for big groups

Adam S. から Portland United States, 09. May 2016

May, 2016日後に4日間滞在

The apartment was very nice and very clean. Plenty of space for our large group (8 people). The location was great, very close to the Charles bridge and Old Town Square, but on a quieter side street. The apartment is on the top floor so be prepared to go up many flights of stairs.

My only two complaints are:

1. Despite being on the top floor you don't get much of a view
2. The lower bathroom was very stinky (like sewer gas). We had to leave the window open and bathroom door closed to control the odor.

Overall, a great apartment if you have a large group and want to stay in the city center.

Response from RENTeGO

10. 5月 2016

Thank you very much Adam, we are happy that you had a good time during your stay here :) Our technician is aware of the problem with the pipes in the building and we have tried to deal with it, however we found out that all the pipes in the whole building would have to be changed, which is not possible for us to do, as we do not own the whole building.

Fabulous flat close to historic city centre

Laura S. から London Great Britain, 05. May 2016

April, 2016日後に2日間滞在

Iris is spacious, clean and well-equipped. The location is convenient to the historic city centre, shops and restaurants. Communication with the rental agent was quick and easy - they even went the extra mile to arrange a car service to and from the airport. Check-in and out was very efficient. Iris is a great value for the price and I highly recommend it for your stay in beautiful Prague.

Response from RENTeGO

18. 5月 2016

Thanks a lot Laura, hope to see you next time you visit Prague!

??

Hungerford United Kingdom, 19. April 2016

April, 2016日後に2日間滞在

Iris was a brilliant location, a top notch bar right next door with underground klub (club) if you wish. Cheap beer their too which as a stag party we wanted. Decent size apartment inside. Plenty of space and there was eleven of us. Our apartment was on the top floor which was sobering especially as there is no elevator but would definitely recommend and stay again.They also provide luggage storage - it's at a different location but it's better then nothing.

Response from RENTeGO

18. 5月 2016

That's good to hear that you enjoyed your stay in the apartment IRIS, Paul. Hope to see you next time :)

Awesome trip for 10 old sacks in the golden city

Krefeld Germany, 18. April 2016

April, 2016日後に4日間滞在

The apartment Iris is perfect for a trip with ten or maybe more adults. For older or handicapped people the stairs up to 4th floor could be a problem. The location in the old town of Prag is perfect to start your trips. The team of rentego very professional, always friendly and polite. Very good advice for parking and the layout of the apartment. Thank you very much for having a great time!!!

Response from RENTeGO

18. 5月 2016

Thank you very much Claus for the nice comment. Indeed, we wouldn't recommend IRIS to anyone who has difficulties climbing 4 flights of stairs every day. For those who prefer to use an elevator, there is for example the apartment Violet, situated in the neighbouring building.

Convenient apartment for a fantastic weekend.

Hampshire United Kingdom, 07. March 2016

March, 2016日後に3日間滞在

The apartment is clean, modern and has all the facilities you need, the only downside would be the stairs to the apartment, it is quite a trek! That aside though I would rent this apartment again as it is in a perfect location, it's quite but still close to all the atractions. Overall a nice clean and modern place to stay.

Response from RENTeGO

08. 4月 2016

Thank you for sharing your experience, Simon, we are really happy that you enjoyed your stay in the apartment IRIS. Let us know the next time you will be visiting Prague, we would be pleased to host you again.

Nice Apartment

---- Spain, 24. February 2016

February, 2016日後に3日間滞在

The apartment was in really good conditions.

Response from RENTeGO

08. 4月 2016

Thanks a lot Pablo.

Really nice appartment in the center of prague

Groeten M. から United States, 23. February 2016

February, 2016日後に2日間滞在

We were in Prague for a weekend with a sports team. The apartment is located in the center of Prague and the Charles bridge is a 3 minutes walk.
The apartment is very spacious and the beds are nice.
The only thing is that the kitchen isn't really made for 14 persons but it was alright!

The communication before arrival with Rentego is very good. They will reply quick to emails.

I would def stay here again while visiting Prague

A very nice experience!

Christian O. から Lyngby Denmark, 21. February 2016

February, 2016日後に6日間滞在

Very good

Traumhafte Wohnung in Prag

Rolf B. から ---- Switzerland, 29. January 2016

January, 2016日後に3日間滞在

Die Wohnung ist sehr zentral gelegen, mitten in der Altstadt, ganz in der Nähe der Karlsbrücke
und ruhig. Die Küche ist sehr gur aussgerüstett.
Die Zimmer gross und sehr sauber.

IRIS Prague

kilanerin,gorey Ireland, 25. January 2016

January, 2016日後に5日間滞在

Hi. We enjoyed the was clean, well laid out and supplied with everything we needed.The staff was really helpful. The one problem we had was the extremely strong sewage smell in the bathroom.When we queried it, they said that was a problem with a lot of older buildings in Prague. That was a shame because we really looked forward to using the large bathtub. My husband was able to reduce the smell by cleaning out the drain and blocking the overflow. The 4 flights of stairs to go to the apartment were actually 117 steps...more than we expected...tiring after a long day of walking.We would definitely use Rentego again, but next time with an apartment with a lift!!:) The workers were very nice and left us complimentary sparkling and a fruit bowl because it was our anniversary. We really enjoyed Prague.

Big, nice apartment a couple blocks from the Charles Bridge.

Kaiserslautern Germany, 21. January 2016

January, 2016日後に3日間滞在

Apartment was modern, spacious, lovely. Also a great location. But on the 4th floor, so be prepared to hike up every day! Also, the toilet smelled pretty bad the whole time, I don't think the sewage system was working perfectly.

Really nice flat

London United Kingdom, 05. January 2016

December, 2015日後に4日間滞在

Booking was very easy and the apartment key arrived in good time. There were several spare keys inside the flat, which was useful for our party to come and go at different times.

Importantly, the extra deposit required for this flat was refunded after the stay automatically and with no quibbles.

Apart from sleeping, we didn't spend too much time in the flat but it is very nicely appointed. Maybe the beds could be freshened up a little.

It is in a fantastic location not far from Charles Bridge, with some very nice restaurants & bars on the street leading up there. The 22 tram line is 2-3 minutes' walk away; very useful for going up to the Castle. Right on the edge of the old town without being stuck in a busy area; it even seemed a bit trendy looking by the bars.

The one main minus point is the sewer smell coming from the master bathroom. OK to put up with during a shower but off-putting enough that you have to remember to close the bathroom door to stop the smell spreading. I'm not sure there is much the owners can do about this without spending a fortune and it's a common problem in flats in older cities such as Prague.

Also, the flat is up 4 flights of stairs, with no lift. So not recommended for anyone who gets easily out of breath.

Overall though, definitely recommended.

Good Service

Matthew T. から United States, 14. October 2015

October, 2015日後に4日間滞在

We went to prague for a stag do with 8 others and the service was great. They met us when they said they would and was a quick and efficient service!
Would recommend :)

Great apartment

Kiel Germany, 05. October 2015

September, 2015日後に6日間滞在

Everything was just perfect.

IRIS in April

San Diego United States, 18. April 2015

April, 2015日後に3日間滞在

Rentego was very responsive, accommodating, and professional.
Only thing that didn't work well was not receiving key by mail in time for trip departure, however, they were prompt in opening up apt. I would definitely work with them again.

Excellent

Fake city United States, 04. April 2015

March, 2015日後に3日間滞在

Aboveboard

Very happy

United States, 11. March 2015

March, 2015日後に3日間滞在

Excelente cidade, e alojamento adequado às necessidades de um grupo de 13 pessoas

Great for a high school trip

Thierry P. から Lausanne Switzerland, 08. March 2015

February, 2015日後に5日間滞在

Came with a class of 18 high school students. We rented 3 apartments and it was really convenient.

Iris

Maura B. から United States, 30. January 2015

January, 2015日後に4日間滞在

Abbiamo soggiornato in 8 e siamo stati molto bene. L'appartamento è molto bello e in una buona posizione. L'unica pecca (per noi non è stato comunque un problema) sono i 5 piani senza ascensore, cosa non indicata nel sito.

A fantastic week-end in a beautiful new appartment

Anne V. から Ans Belgium, 19. January 2015

December, 2014日後に3日間滞在

A very professional team, a beautiful appartment and a beautiful city to visit.

Iris

Jennifer B. から Fake city United States, 10. January 2015

December, 2014日後に4日間滞在

The apt. was great for the 8 of us. It was clean and in a great location. The staff was great with communication. The only problem was the sewer smell in the main downstairs bathroom.
チェックイン/アウト
チェックイン時刻
以降のチェックイン 4:30 PM (から荷物を置いておける可能性 1:00 PM)
チェックアウト時刻
までにチェックアウト 11:00 AM (まで荷物を置いておける可能性 11:00 AM)
簡単なチェックイン
コードロックまたは個人的なお迎えにより、お客様は直接 ...に行くことができます
チェックイン/アウトに関するさらなる情報
アメニティ
アメニティ
アメニティ
このアパートのアメニティのリスト
このアパートのアメニティのリスト
Attractions

zoo, churches, cinemas, festivals, live theater, museums, playground, restaurants, synagogues

Location type

Downtown

Suitability

children welcome, non smoking only, pets considered, wheelchair inaccessible

アメニティ

toilet, shower, tub

アメニティ

washing, non-smoking, heating, hair dryer, baby cot and baby chair (option), iron and ironing board, linens and towels provided
エンターテイメント

television, radio and CD player, satellite

キッチン

Kitchen, coffee maker, dishwasher, microwave, oven, refrigerator, stove, toaster, dishes and utensils

ビジネス

ATM nearby, free Internet (WIFI), writing desk

利便性

medical services nearby, grocery nearby, parking nearby, shopping center nearby, restaurants and bars nearby
間取図
間取図 この物件の大まかな間取図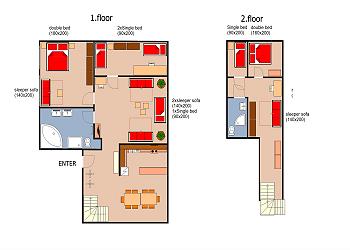 | | |
| --- | --- |
| Room | 部屋 |
| Hall | ホール |
| Kitchen | キッチン |
| Living-room | リビングルーム |
| Bathroom | バスルーム |
| Shower room | シャワールーム |
| Balcony | バルコニー |
| Terrace | テラス |
| Cloakroom | クロークルーム |
| Single Bed | シングルベッド |
| Double bed | ダブルベッド |
| Twin bed(s) | シングルベッド |
| Sleeper Sofa | スリーパーソファー |
| Mezzanine bed (usually a mattress on a wooden parquet) | 中二階のベッド(通常は木製の寄せ木細工上のマットレス) |
滞在期日に利用可能なアパートを見つける
-お客様が興味をお持ちかもしれない近くのアパート
ダウンロード
お客様が興味をお持ちかもしれない追加情報